Well, it's been quite a week for social media.
Once Twitter and Facebook announced the banning of Donald Trump on their platforms, the dominos fell. Just about every major social media platform has put a ban on Mr. Trump for "violating their terms of service."
If you've been on Twitter or Facebook recently, a number of people have been bringing up first amendment rights. Here is what the Constitution of United States of America 1789 (rev. 1992) says:
"Congress shall make no law respecting an establishment of religion, or prohibiting the free exercise thereof; or abridging the freedom of speech, or of the press; or the right of the people peaceably to assemble, and to petition the Government for a redress of grievances."
This is for Congress. For the State. But, per the laws of the land, any private business can have their own terms of service.
Last week Twitter stated:
"After close review of recent Tweets from the @realDonaldTrump account and the context around them we have permanently suspended the account due to the risk of further incitement of violence," Twitter said in its announcement. "In the context of horrific events this week, we made it clear on Wednesday that additional violations of the Twitter Rules would potentially result in this very course of action."
Facebook's Mark Zuckerberg said:
"We believe the risks of allowing the President to continue to use our service during this period are simply too great. Therefore, we are extending the block we have placed on his Facebook and Instagram accounts indefinitely and for at least the next two weeks until the peaceful transition of power is complete."
—- Now, the risk of keeping Mr. Zuckerberg as CEO of Facebook is for a different edition of this newsletter. —-
The first amendment protects a citizen from government censorship. Period. End of story.
On the other hand, a private company can pretty much do whatever it wants (as long as it isn't blatant discrimination), just like I can't walk into a local store without a shirt on (that's a goodness on many levels). Twitter, Facebook, Twitch (owned by Amazon) are not state actors.
Many users, including a few from Mr. Trump's team, moved to Parler, a social media platform that has quickly become known for allowing speech of all kind (they promote themselves as a free speech network). On Saturday, Amazon announced that it would no long host the Parler platform, again citing terms of service (apparently, many of the terrorists who stormed the US Capitol organized on Parler). This happened shortly after Google and Apple made a decision not to allow people to download the app anymore.
As I type this, you can't get access to Parler.com (see above image). No one will host their service. Uh oh.
On Tuesday, Parler sued Amazon citing anti-trust violations.
The Bigger Picture
The point is this – social media networks are rented land.
Although social media channels could be great places to build a digital footprint and acquire followers, you ultimately have no control over what those companies do with your connections. Sure, LinkedIn lets your current connections see all the content you publish on LinkedIn, but LinkedIn changes its algorithm consistently. One day you might see thousands of people engage with your post. The next day it could be a few dozen. LinkedIn has every right to do so as a private business, and you, a free member of the LinkedIn community, have very few rights (if any). They could, of course, kick you off the platform at any time (see above).
Social channels like Facebook, Twitter, LinkedIn, Pinterest, Snapchat, TikTok and Instagram may all be solid considerations to build a platform depending on whom you are targeting, but it's important to understand the dangers.
I had many conversations with friends of mine about Donald Trump's huge audiences on Twitter and Facebook. While amazing and influential, those audiences were not Mr. Trump's. They are and always will be owned by Twitter and Facebook. The smart move would have been Mr. Trump taking that influence he built on social media and creating his own platform. Sure, he has a small newsletter, but nothing like his reach on social media.
The Safest Bet
Look at the fastest-growing media companies of today, such as The Morning Brew or The Bleacher Report, or more mature new media platforms, such as the Buzzfeed. You can even look at a traditional publisher like the New York Times. They are all very good at leveraging social channels and building an audience on those channels, but they don't build their main platform on social channels.
In every case, they build websites or mobile applications or print properties or event programs (all with subscribers) that they can own, and then leverage other channels to drive people back to the sites they own so they can convert passersby into an audience they can monetize.
If Twitter bans the New York Times for some reason, it may put a dent into the NY Times plan, but it won't kill them, because they have an amazing owned audience of opt-in email and print subscribers.
Move Audiences Up the Chain
This image will be a part of Content Inc., Version 2 (to be released in May).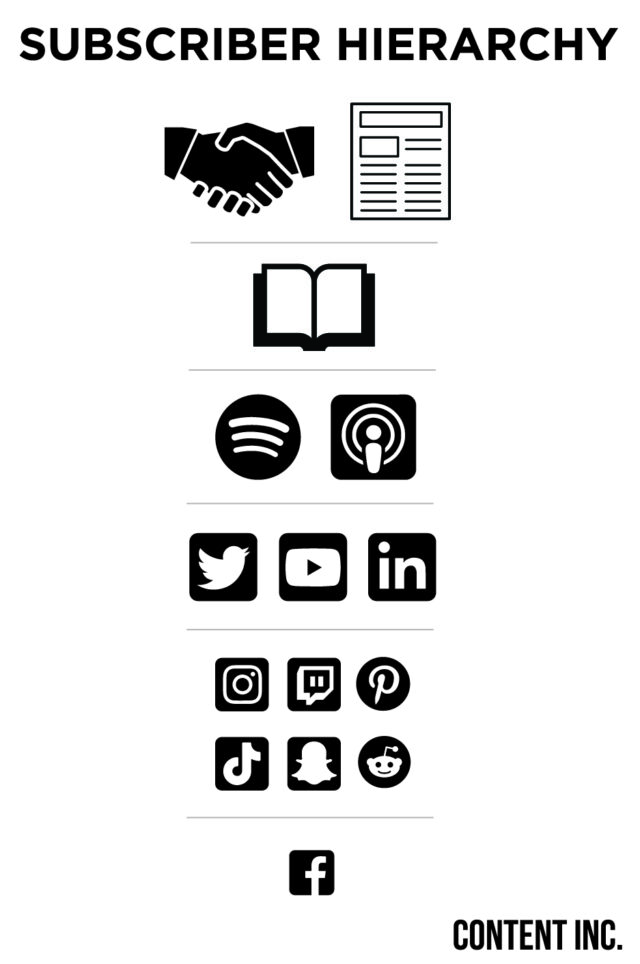 Basically, our goal is to move our subscribers from rented to owned land. You may ask, how does that work exactly?
Well, do you have an audience in a Facebook group? Work on getting them subscribed to your podcast.
Have a solid YouTube audience? Try getting them to subscribe to your enewsletter.
Do you have an amazing podcast? See if you can build an online membership that requires an email address.
Remember, YOU DON'T OWN ANY OF YOUR SOCIAL MEDIA CONNECTIONS.
Do they have value for you? Then begin the move. I bet Mr. Trump wished he did exactly that.
A Final Thought
Personally, I believe Mr. Trump should have been banned from Twitter years ago. I also feel that thousands of others, who incite violence and go against Twitter's terms of service, should be gone as well.
But, I'm also cognizant that these social media platforms are not ordinary private businesses. They wield too much power and it is VERY easy for them to discriminate against certain people and businesses, whether or not they have the moral right to do so.
Platforms like Facebook and Twitter have become too powerful. Tech giants like Apple and Google and Amazon are larger than many countries. I believe some government regulation is needed (and I HATE most government regulation).
Who knows how long we'll have access to free social media like we do today? Leverage them while you can.
A Recommended Podcast
Like many in the US and around the world, the events of last week were highly disturbing. I've been trying to take in a balanced approach of media to make sense of it…and to have better conversations with my children.
I listened to this podcast from Sam Harris yesterday on the Insurrection. Harris is not conservative or liberal. He takes a very balanced approach. It's the fairest representation of how we should look at what happened at the US Capital. I hope you take 30 minutes of your time to check it out. Note – it does include some foul language.
Lost Bitcoin
Stefan Thomas has two more password tries left to recover his 7,002 Bitcoin (worth $220 million dollars). He can't find the paper where he wrote down the password. Some estimate that nearly 20% of the entire supply of Bitcoin (18.5 million) is lost.
——–
Final note…my "One Random Thing" section will be back next issue. In the meantime, read Stranger in a Strange Land. You can thank me later.
---
The following was an excerpt from Joe's newsletter. Only subscribers receive the full version.