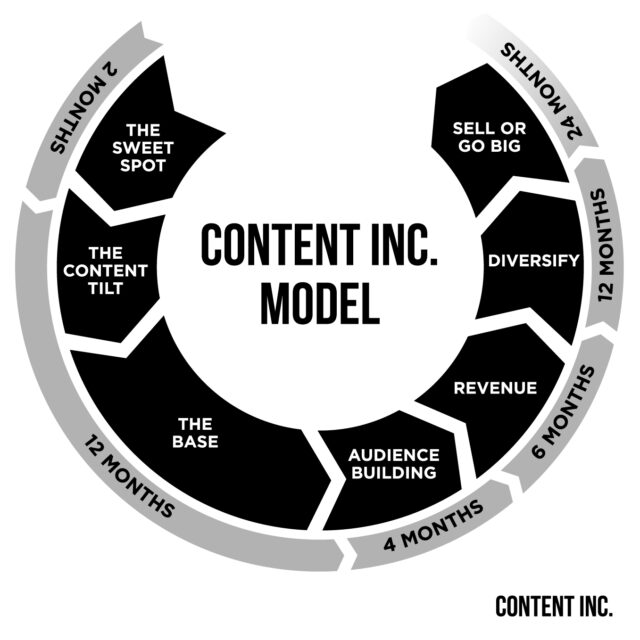 Last week I turned in the final manuscript for Content Inc. (version two). I'm really excited about it, mostly because the interviews were amazing and I feel the model is correct now (I thought the last one was correct as well…this one is just better).
Also, The Wall Street Journal found that there are more people launching new businesses now that at any time since 2007. And since I believe Content Inc. is the greatest business model since…well…ever, there you go. 😊
This time, after interviewing more than 100 businesses that launched an audience-first/content-first business model, we put together the timing image included in this enewsletter (see above).
Note: there is no definitive timetable for Content Inc. model success. I wish there was. But, we are getting closer to figuring this out.
I started my Content Inc. journey in April of 2007, almost quit in September of 2009 because I did not have the patience. Luckily, I stayed with it, promising my wife I would give it a few more months. By May of 2010, the audience numbers started to flourish, and we were able to secure sponsorships to keep the company going. In 2011 we hit a million dollars in revenue. The next three years we hit the Inc. 500 list of fastest growing private companies. In 2016, we sold for mucho dinero.
From a start to milestone standpoint, we hit the five-million-dollar valuation mark in the year 2012, five years after we started. It's not rocket science, but that seems to be a good benchmark. Most of the Content Inc. cases interviewed for the book are valued between two and ten million after five years.
Here are the timing parameters.
The Sweet Spot/The Content Tilt: Two Months
It takes a few months to find your sweet spot (intersection of your knowledge/skill area and your audience's desire) and then start testing your content tilt (your area of differentiation, or hook). For Content Marketing Institute, the tilt of content marketing (as a term) was immediate. It took an adjustment a few years later, the focus on enterprise marketing professionals, that pushed the model into high gear.
The Base: 12 Months
It is acceptable to test out platforms in your first couple months. By at least the six-month mark, you should decide on your core platform and content type (audio, visual or text/image). Another six months and you should have your content plan, your frequency, and your subscription options set for maximum audience building.
Audience Building: Four Months
Once the base is working, everything should be focused on building an opt-in subscriber base. If possible, be sure you have an email offering (in case your base is built on a social media platform). Most likely, even though the base may be working, you probably do not have a large enough or focused enough audience to drive revenue (just yet).
Revenue: Six Months
Although you will want to drive revenue as soon as possible, revenue options seem to present themselves at about the 18-month mark.  Take these months to identify the best revenue option and stick with it for a few months before seeking out other revenue options. Focus is key here.
Diversify: 12 Months
Now that you have one critical platform working, we need to "de-risk" the model by creating additional extensions. These can be organic launches or content asset acquisitions. Prime diversification time occurs at about the two-to-three-year mark.
Sell or Go Big: 24 Months
The timetable here depends on your overall goals and your ultimate exit strategy (see the previous issue of this newsletter). At minimum, if you have not already done so, you need to develop a written exit strategy once you are deep into the diversification stage. If you've gone this far, you most likely have a truly valuable business and one that will either be precious to someone else, or, will print money for you as a lifestyle business for years to come.
About half the new version is brand-spanking new. The book is set to release May 25, 2021.  More to come.
---
The following was an excerpt from Joe's newsletter. Only subscribers receive the full version.