The Will to Die Frequently Asked Questions (FAQ)
Thank you for your interest in Joe Pulizzi's debut novel, The Will to Die.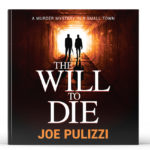 We've received a number of questions about The Will to Die, so we decided to use this page to answer as many as possible. This is a living document and we will be continually updating this page with new questions.
Can I still listen to The Will to Die for free?
You can subscribe and download the entire book until March 2, 2020 via Apple Podcasts, Google Podcasts, Spotify, Stitcher or Overcast. If you've never listened to an audiobook via a podcast player before, click on this helpful tutorial.
What is The Will to Die about?
The Will to Die is about a murderous conspiracy that takes place in a small town. Here's the synopsis:
Will Pollitt just successfully delivered the business pitch of his life — a win he desperately needs. At the same moment 50 miles away, Will's father is found dead.
Coming home gives Will a chance to reconnect with his father's life and work. Yet digging into the past, Will makes a shocking discovery: His hometown neighbors are turning up dead at alarming rates. His father seems not only involved but could he be… one of the lead operatives? Is that why his father is now dead, too?
The hunt for the truth jeopardizes Will and everything he loves. And it makes him question not just his father's death, but what it means to truly live.
Why did you launch with an audiobook?
99% of all books are published the same way. Both traditional publishers and self publishers launch all versions of their books at the same time. They also focus on Amazon.com for everything. While Joe believes there is nothing wrong with Amazon, he thinks that authors should be more creative with how they launch books.
So, for The Will to Die, Joe is focusing his launch efforts on one content type only…audio…and…giving that audio version away for free. Since December 4, the book has had over 50,000 downloads.
Now, Joe is gearing up for the big launch. You can find all available versions for sale here.
Why did Joe decide to write a novel?
Joe's previous five books are all marketing business books (check them out here), three of which have been Amazon marketing category best sellers. While that's wonderful, Joe's ultimate goal was to have his wife read his books. Unfortunately, Joe's wife doesn't like reading marketing books and would only read the acknowledgements page of each book.
Joe's wife's favorite type of book is a thriller/suspense novel. So that's exactly what Joe wrote. In January of 2019, Joe's wife read the first draft of The Will to Die and loved it. Joe is now satisfied.
Now that he's accomplished that, Joe's new goal is to affect people in a positive way through his writing (really, that's his goal).
How long did it take Joe to write The Will to Die?
Joe began writing The Will to Die in January of 2018. Then, after nine months of writer's block, Joe found his groove and finished the manuscript on January 20, 2019. After eight months of editing and reviews, Joe submitted the manuscript to Kyle Tait, who read the audio version of the book. Joe's book officially launched on December 4, 2019. All other versions launch on March 2, 2020
Why didn't Joe read the audiobook himself?
Joe has read all his business audiobooks himself. He actually tried to read The Will to Die, but the voices kept coming up sounding like Elmo (Joe actually does a pretty good impression of Elmo…as well as Saul Rosenburg). Thankfully, Joe decided that Kyle Tait should read the book. You should all thank Kyle.
I hear there is a bonus chapter of The Will to Die. How do I get it?
If you subscribe to Joe's Random Newsletter, delivered every other Thursday, you'll receive the bonus chapter upon subscribing. You can unsubscribe whenever you want. It covers the book, marketing, writing, money and interesting human behavior. Joe says "it's actually pretty good."
Where did Joe find the time to write a novel?
Joe and his wife sold their business, the Content Marketing Institute, for a boat-load of money in 2016. Today, Joe spends his time with family, friends, or working on projects he has a passion for, like writing The Will to Die.
Why is the book set in Sandusky, Ohio and Cleveland, Ohio?
Joe and his family currently live in Cleveland. He has been a Destination Cleveland Ambassador and also created the largest annual business event in Cleveland, called Content Marketing World. Joe loves everything about Cleveland and will tell you so whenever he gets the chance.
Joe was born and raised in Sandusky, Ohio. Some of his family still live in the Sandusky area.
Are there parts of the book that are real?
All of the names, characters, organizations, places and events portrayed in this novel are either products of the author's imagination or are used fictitiously. Any resemblance to real or actual events, locales, or persons, living or dead, is entirely coincidental.
Joe's descriptions about marketing and the funeral home are very detailed. How did Joe do the research on both?
Joe is a marketing professional and has been for over 20 years. Also, Joe worked for a spell at a funeral home.
Will there be a sequel to The Will to Die?
Yes. He is working on it now.
Who do I contact if I'd like to book Joe on my podcast or interview him?
Please contact Pam Kozelka at pam at zsquaredmedia.com (replace at with @).
I see Joe does quite a bit of speaking. Who do I contact to have Joe speak at my event?
Please contact Pam Kozelka at pam at zsquaredmedia.com (replace at with @).
——-
For more information on Joe Pulizzi, just go to JoePulizzi.com. If you'd like to hear from Joe on a regular basis, sign up for his Random Newsletter, delivered every other Thursday. You can also reach Joe on Twitter @JoePulizzi or visit his author page on Facebook.