Books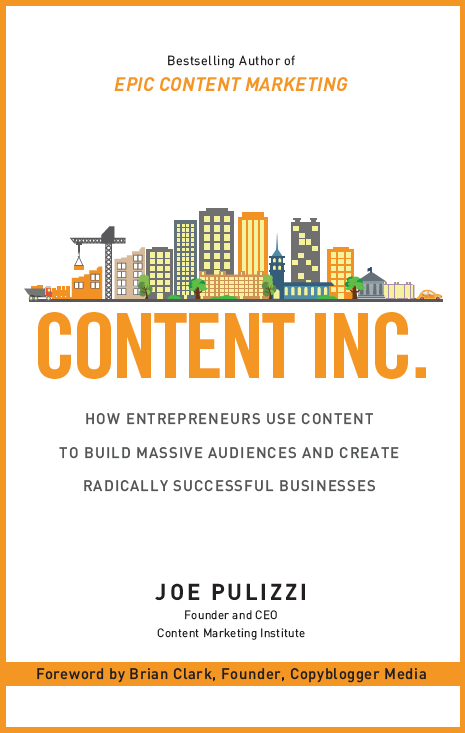 Read More Press & Reviews here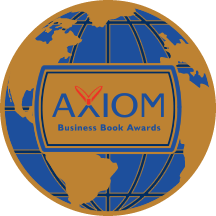 2016 Bronze Axiom Business Book Award Winner
About
The NEW Rulebook for Entrepreneurial Success
What's the surest way to startup failure? Follow old, outdated rules.
In Content Inc., one of today's most sought-after content-marketing strategists reveals a new model for entrepreneurial success. Simply put, it's about developing valuable content, building an audience around that content, and then creating a product for that audience.
Notice a shift?
Author Joe Pulizzi flips the traditional entrepreneurial approach of first creating a product and then trying to find customers. It's a brilliant reverse-engineering of a model that rarely succeeds.
The radical six-step business-building process revealed in this book is smart, simple, practical, and cost-effective. And best of all, it works. It's a strategy Pulizzi used to build his own successful company, Content Marketing Institute, which has landed on Inc. magazine's list of fastest growing private companies for three years straight.  It's also a strategy countless other entrepreneurs use to build their own multi-million dollar companies.  Build an audience and you'll be able to sell pretty much anything you want.
Reviews
"Instead of throwing money away and sucking up to A-listers, now there is a better way to promote your business. It's called content marketing, and this book is a great way to master this new technique." -Guy Kawasaki, Chief Evangelist of Canva and author of The Art of the Start 2.0
"How do you take the maximum amount of risk out of starting a business?  Joe Pulizzi shows us.  Fascinate your audience, then turn them into loyal fans.  Content Inc. shows you how.  Use it as your roadmap to startup success." -Sally Hogshead, New York Times and Wall Street Journal bestselling author, How the World Sees You
____________________________________________________________________________
Epic Content Marketing: How to Tell a Different Story, Break through the Clutter, and Win More Customers by Marketing Less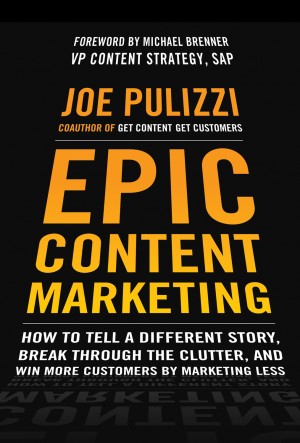 2014 USA Best Book Awards Winner in Business: Marketing & Advertising
#1 Marketing Best-Seller on Amazon.com
One of 5 Must Read Business Books of 2013- Fortune Magazine
Read More Press & Reviews 

here
About
No longer can we interrupt our customers with mediocre content (and sales messages) our customers don't care about. Learn how to draw prospects and customers in by creating information and content they actually want to engage with. This groundbreaking guide gives you all the tools to start creating and disseminating content that leads directly to greater profits and growth.  Check out EpicContentMarketing.com for more info.
Reviews
"This is a brilliant canter through the rapid and ever changing world of content marketing." –JONATHAN MILDENHALL, VP of Global Advertising Strategy & Creative Excellence at Coca-Cola
"Joe Pulizzi is the godfather of our burgeoning profession of Content Marketing.  He lays out the objectives, principles and core strategies of our field in a way that's easy-to-understand, inspiring and entertaining."- JULIE FLEISCHER, Director, Media & Consumer Engagement at Kraft Foods
______________________________________________________________________________
Managing Content Marketing: The Real-World Guide for Creating Passionate Subscribers to Your Brand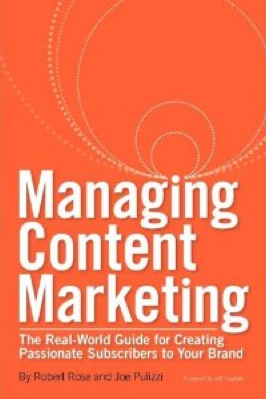 About
Let's face it…content marketing is all the rage. Brands around the world are spending (on average) over 25% of their total marketing budget on content marketing. What's been missing…until now…is the book that tells marketers exactly how to put content marketing to work. Managing Content Marketing shows you, in detail, how to manage content marketing within your organization. Whether you come from a small company or multi-billion dollar brand, this book gives you the ammunition and the ideas to develop a storytelling process that will create passionate subscribers to your brand.
World-renowned content marketing experts Robert Rose and Joe Pulizzi have teamed up to help marketing pros and business owners develop a content marketing plan that goes beyond theories and explains exactly how to turn that plan into reality.
______________________________________________________________________________
Get Content Get Customers: Turn Prospects into Buyers with Content Marketing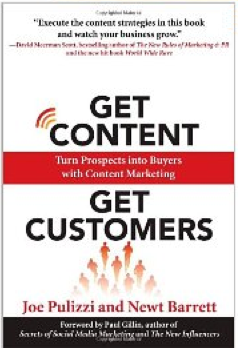 About
The rules of marketing have changed. Instead of loud claims of product superiority, what customers really want is valuable content that will improve their lives. Get Content Get Customers explains how to develop compelling content and seamlessly deliver it to customers— without interrupting their lives.
It's the new way of marketing, and it's the only way to build a loyal, engaged customer base.