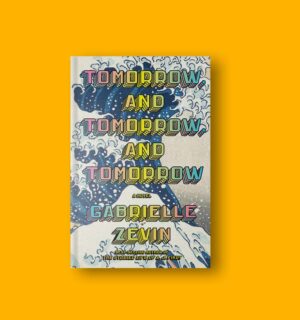 Dealing with Creator Failure
I'm almost finished with the audiobook Tomorrow and Tomorrow and Tomorrow by Gabrielle Zevin. The main characters are video game designers, so this book is more than appropriate for any content creator. The ups and downs of creating something are palpable.
Without giving anything away, the creators developed a game that turned out to be a flop. Sadie, one of the creators, has a difficult time dealing with the failure, especially a public failure. She is, frankly, beside herself and doesn't know how to move on.
The advice she receives is priceless. There are two takeaways I remember.
The first is there is a blessing in a public failure. It means, in the aftermath, there are no expectations on what you create. This bittersweet silence gives you, the creator, the time and the "moment" to begin creating something again, without any pressure. The creator must embrace this.
While listening, the book took me back to the year 2009. It was turning from summer to fall when I had to face the fact that Junta42, my first startup, was not going to survive. I was keeping it on life support, hoping. Hopeful that some miracle would happen.
We were so small at the time. No one was paying attention. But I felt as though I would never be able to work again. I was ashamed. I moved from room-to-room and the failure seemed to follow me wherever I would go.
I pushed through and made the decision to kill the business. The feeling was not what I expected. Relief? Freedom? Something like that.
The months after I was free to think and create something different. Six months later Content Marketing Institute was born.
In the book, Sadie asks "what do I do?"
The response: "You go back to work. You take advantage of the quiet time that a failure allows you. You remind yourself that no one is paying any attention to you and it's a perfect time for you to sit down, in front of your computer, and make another game. You try again. You fail better."
The second piece of advice from the book is around the idea of switching to a new project. Sadie had the idea that moving from one project to another is a sadness. Something not to revel in. Something to mourn.
The advice she receives is the exact opposite. Moving from one space to another is not something to mourn. It is, rather, a joyous occasion. We should honor what we have produced and created before, but exalt in the idea that we are to embark in a new journey. This is also a blessing.
Failure creates a gate…a gate to walk through and, on the other side, do something truly better than before.
I've heard all the failure quotes. I'm sure you have as well. Fail fast. Failure is necessary. Failure makes you stronger. All these are true. But I'm not sure I've ever looked at failure as an opportunity. A space "in between other spaces" that is a blessing…if you see it as such.
Anyway, the thought makes me smile. It also reminds me of why I love this content entrepreneurial business model so much. We get to work on different projects. An end to one is a new beginning for another.
My father always worked jobs where he got up and pretty much did the same thing each and every day. The only "new" thing each day was what he was having for lunch.
While there is nothing wrong with this type of work (which in many cases is needed in our society), I like the thought of passing through one gate, being thankful, and moving on to the next.
---
Nine Reasons to Meet Me at CEX in May
Here's 9 reasons why you need to be in Cleveland May 1-3 for the 2nd Annual Creator Economy Expo (CEX).
1. The presentations are from real content creators doing the work. You'll learn EXACTLY what you need to be doing to grow audience and revenue.
2. We're still a small conference. You'll get to actually talk to the speakers. Ask questions. Network without bumping into people. Make real relationships.
3. Current pricing ends March 31. You can save $200 off regular pricing by registering before then.
4. Don't you hate events where food is extra? At CEX, you'll get watered and fed with some amazing options (and not pay anything more).
5. My favorite two months in Cleveland are May and September. Spring in Cleveland is (generally) amazing. You'll love it. Stay for a while and catch a ball game or go to the Rock n' Roll Hall of Fame.
6. Jay Baer, keynote speaker and tequila expert, will be doing multiple tequila tastings during the opening reception. Don't miss this!
7. The Savannah Bananas are a worldwide sensation. Founder Jesse Cole will teach you his "fans first" philosophy, and how you can implement it as well.
8. Eight tracks this year including subscription generation, podcasting, web3, courses/membership, revenue growth, content operations and video/social media. PLUS four sessions on how creators need to deal with AI and Content!
9. Flights to Cleveland are reasonable. Hotels are cheap (by comparison to other venues).
Register today and save. And use coupon code JPVIP to save an additional $200 off! Hope to see you there.
---
Friendly AI Reminder
The last two months the creator world has gone ChatGPT crazy. With the release of ChatGPT-4 last week, we are back at it again.
Let's face it, ChatGPT and other AI tools are incredible…tools. If it helps your process, by all means experiment and use them. I know many creators who are using it for headline suggestions and simple editing. Bravo!
But know that the tool is often wrong. According to Newsguard, the new ChatGPT version provides more misinformation that the previous version. Quite a bit more actually.
Also, here's a great reminder from Rand Fishkin, who pulled information directly from OpenAI's FAQ (OpenAI is the company behind ChatGPT).
1) "ChatGPT's training data cuts off in 2021. This means it is completely unaware of current events, trends, or anything that happened after its training.  It will not be able to respond appropriately to questions or topics that require up-to-date knowledge or information. It does not know who is president of the United States, the latest viral meme, or what day it is."
2) "ChatGPT has no external capabilities and cannot complete lookups. This means that it cannot access the internet, search engines, databases, or any other sources of information outside of its own model."
3) "It cannot verify facts, provide references, or perform calculations or translations. It can only generate responses based on its own internal knowledge and logic"
So absolutely be excited … but also know what you are receiving is not necessarily true.