26.2 to Life – The Documentary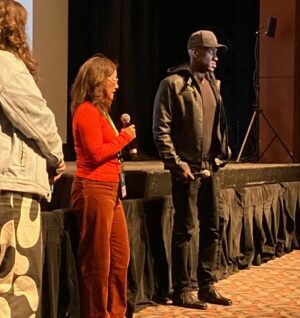 In almost two weeks from now, I'll be running my first marathon. I've run 300+ miles along with four sessions per week since the start of the year as part of my training. This Sunday was my longest run to date (22 miles). From here on out I'll be tapering (aka resting the legs a bit) until race day.
I believe I'm ready, and excited, for April 23rd in Toledo, Ohio (the Glass City Marathon).
So last week, as part of the Cleveland International Film Festival, my wife took me to see the documentary 26.2 to Life, a story about the incarcerated men of San Quentin Prison who train all year for a marathon inside the prison.
The documentary, developed by director and producer Christine Yoo (the one in red), took over five years to film and edit, including nine months just to get permission from the California prison system.
I was simply blown away by the movie. I give it six out of five stars.
The sold out Allen Theatre in Cleveland erupted in applause at the end of the movie, sending Ms. Yoo to tears.
One of the stars in the film, Markelle Taylor (pictured on the right), who finished with the fastest time of the San Quentin runners, was released from prison four years ago and has since run the Boston, New York and Chicago marathons. He now travels the country visiting prisons and juvenile populations sharing his experiences.
A couple of things I learned from the movie:
The United States has five percent of the world's population, but 25 percent of the world's incarcerated. It doesn't take a genius to see that we have a problem here.
Most prisons are highly segregated by race. According to Ms. Yoo, San Quentin's 1000 mile club is the most racially integrated of pretty much any prison-type program. The movie actually talks about how re-entry is often difficult for former prisoners because they are used to prison segregation.
Prisoners who are released often times find their way back to prison. Of the 45 San Quentin 1000 milers (those prisoners who run at least one thousand miles while incarcerated) who have been paroled, none have re-offended. An amazing statistic.
I could go on in so many directions, from the Pulitzer-prize nominee Ear Hustle podcast, recorded inside San Quentin (take a listen), to the Society of Professional Journalists' San Quentin chapter, to the amazing San Quentin News, which is available to anyone outside the prison. The paper promotes social justice issues.
But the aspect of this documentary that hit me the hardest was being a witness to the power of one story.
In February of 2016, journalist Jesse Katz wrote a story called "Inside the San Quentin Marathon" in GQ magazine. That story was read by Christine Yoo and inspired her to develop the documentary. That documentary is now being seen by millions across the world, and is inspiring other prisons to launch their own 1000-mile clubs (two so far and more on the way).
Personally I witnessed over 500 people moved to tears from this documentary that would have never happened if someone didn't first write the story.
It's important for us to remember that if what we write, what we create, positively affects just one person, we are indeed changing the world for the better. Sometimes we can't see it or know it, but it's happening.
Keep creating!
---
Deep Thoughts
If you go back to issue #95, you'll remember the obituary I wrote for my friend and mentor James McDermott. There's not a day that goes by that something doesn't remind me of him, or the influence he had on me. One thing is for sure, I would be doing something completely different with my life if it wasn't for Jim.
A few months ago I was cleaning out some of Jim's work papers. Jim's notes always fascinated me. He would read an article and, many times, the notes would be longer than the article.
Here's eight short notes that stood out for me. I'm hopeful they'll help you as well.
1. Only a focused and common mission will hold the organization together and enable it to produce. Without such a mission, the organization will soon lose credibility and, with it, its ability to attract the very people it needs to perform. (Drucker)
2. Training has no value unless the person makes a behavior change.
3. Goals must be 1) written, 2) understandable, 3) achievable/realistic, 4) challenging and 5) measurable.
4. Without goals, it doesn't matter how you use your time.
5. 80 percent of all problems can be traced to communication issues.
6. Change happens through listening, not talking.
7. A wrong decision is better an indecision (Ford).
8. The primary purpose of your business is to serve your life (Gerber).
Jim has sheets and sheets with these quotes on them. I refer back to them often. Thanks Jim!
Your legacy lives on.
---
Where I'll Be…
It will be a very busy few weeks and would love your support.
The Marathon. On April 23rd I'll be running in my first marathon in Toledo, Ohio at the Glass City Marathon.
Creator Economy Expo on May 1-3rd in Cleveland. THE event for content creators! If you'd like to go and can't afford it, email me. We have a few scholarships available for creators who need some financial assistance.
100 Holes of Golf (May 15th in Elyria, Ohio). I'm raising money for the 4th year in a row by golfing 100 holes in a day. I'm working to raise $2,000 for kids who need speech therapy. Donate here!
---
The Power of Editing
John Wick was one of the best action movies I have ever experienced. One of the keys? Dialogue editing.
Per the Wall Street Journal, 27% of the 103 lines spoken by Keanu Reeves (Wick) are a single word.
Morning Brew says that, in total, Keanu Reeves was paid $39,473 per word (for the reported $15 million dollar payday for the superstar).
Reeve's character only says 380 words in the entire movie. Brilliant!
Could less be more? Reeves sure thinks so.