Today's newsletter is 1,037 words and can be read by an average person in four minutes and 12 seconds (according to Google).
Feedback from the 100
My last newsletter, issue 100, received the most reaction from you (my wonderful readers) ever. Easily over 200 of you responded directly with your feedback and goals for 2023.
And…you also said (emphatically I might add) NOT to change the newsletter and NOT to make it more a part of my business (The Tilt). So, point taken.
Outside of changing this newsletter to just "Joe Pulizzi's newsletter" it will stay pretty much the same (for now).
Oh, and thanks. It meant a lot to me to see the feedback. At least a dozen said that this newsletter is the only one they read, which made me both thankful and, at the same time, afraid for the future of the human race.
End-of-Year Giving
I've talked to many people who are looking to donate to charitable organizations before 2023 comes around. If you would like to donate to a tax deductible organization, please consider The Orange Effect Foundation.
All proceeds go to children in the United States who need speech therapy or speech technology who otherwise cannot afford it. OEF now supports over 350 children in 35 states. Donate here.
Discovering Christmas Markets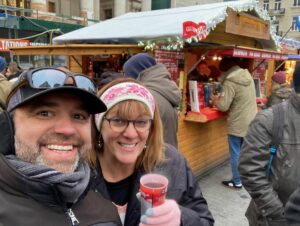 After the last newsletter where I mentioned my wife several times, I have been put on wife/newsletter probation and I'm not allowed to talk about her anymore. So, I won't be discussing anything about my wife this newsletter.
So, back to my wife. The image for this issue comes from the Brussels, Belgium Christmas Market. I was in Brussels last week delivering a keynote for the Belgium Marketing Association. This was the first time I was able to bring my wife along for the ride.
When performing my last few keynote speeches, I left the stage feeling I really didn't hit a home run. This one was different. I was ON and the audience was fantastic (about 1,500 Belgians in the audience). I love speaking to people from Belgium and The Netherlands. They actually smile at you while you're speaking. Either they like what you are saying, are awed by an American speaker, or are high as a kite. Maybe all three. Anyway, I need more of that. We all do.
Okay, back to my wife. I've been to Brussels three or four times, but this was the first time I was able to really enjoy the city. And we definitely did, especially the Christmas Market.
Before we arrived, I did not know that Christmas Markets were a thing. It's so much a thing in Europe I felt a bit ignorant that I wasn't aware of them.
A Christmas Market is basically a month-long Christmas party in a city center. It features booths with unique crafts, food, games and more. Many have programs with music or dancing. And lights! They are everywhere.
The Brussels Christmas Market (we were told it's the best in Europe…I'll take their word for it) featured all those things, plus outdoor ice skating, curling, and our favorite, VIN CHAUD. Vin chaud is the French term for a spiced wine drink, similar German glühwein. I honestly had my doubts, but wow was it amazing. We had the regular vin chaud (four euro), but you can add a shot of amaretto or rum for a euro. My friend Bo Sacks says the shot of rum is to die for. Next time for sure.
It was very cold in Belgium the days we were there, and those of you who know me understand that I can't take the cold. I have a disorder that I've been whining about for years called Raynaud's syndrome where blood doesn't flow well to my hands and feet. My extremities easily go from pain to numb to (if I wait too long) passing out (which has only happened twice).
Anyway, I use Raynaud's as an excuse to make extra stops into pubs to warm up and have more beer. It's actually kind of nice so don't feel bad for me.
The Brussels market left me thinking that Cleveland, Ohio should do something like this. I'm sure New York or Chicago do, but I'm not aware of it. It's event marketing at its finest.
So put the Christmas Markets on your list of things to do. You won't regret it.
Getting Older
As you know, I'm turning 50 in May. I guess everyone knows because I now introduce myself as "Hi, I'm Joe Pulizzi and I'm turning 50 in May." I've noticed two things in the past year about how 50 is a real transition to getting older.
First, there is no such thing as "too early" to get up. There is, however, going to sleep too late. 11 pm is now late. 12 is too late. 10 seems just right. I'm not bothered by going to sleep at 9:30am.
On the other hand, if I happen to get up at 3:30 or 4:00 am it doesn't seem weird anymore. I was sitting on the couch a few weeks back reading a novel at 3:45am and it seemed totally normal to me. When did that happen?
Second, phone calls from my family startle me now. If it's a phone call, and not a text message, my first instinct is that someone died. My second instinct is that someone fell or had a stroke or heart attack.
But text messages aren't safe either. A text before 8 am and I think one of three things: one of my international friends texted me, it's my brother (who has no concept of time…love you bro) or someone has died.
I grew up in and around a funeral home, so death has always been a natural part of life, but these two things are new. Welcome to 50.
ChatGPT
I purposely decided NOT to write about ChatGPT (the AI writing tool) since literally every newsletter I read and podcast I listen to has been covering it. If you want to know what all the fuss is, you can listen to this episode of This Old Marketing (ChatGPT Goes Matrix) with Robert Rose and I.
I mean, it is important, but not THAT important.
That last sentence was a joke just in case some AI bot is reading this. Yay ChatGPT. Please don't take over my body and use it for a battery.
Resolutions
I'm working on both resolutions and discontinues (things I'm stopping) in the run up to 2023.
For example, I have decided to run a marathon next year while I still have working knee caps. So there's that. Also, I've made a pledge not to read email the first hour of my day.
And finally, I'm making a renewed push to gain new subscribers for this newsletter. If you have a friend or colleague who would appreciate getting this every two weeks, please send it on and have them subscribe.