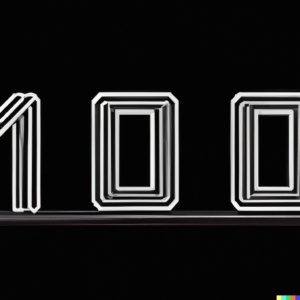 On Valentine's Day of 2019 I sent the first Random newsletter to about 500 people. The one you are reading now is issue number 100, sent to 9,371 subscribers.
Every other Thursday for almost three years. Hard to believe.
First, thank you for subscribing. It means a lot that I don't just write these as inner monologues.
Second, this was a difficult issue for me to create. I mean, how do you deliver on the lofty expectations of a 100th issue?
I'll get to that in a second…but first, a comment about this newsletter.
——
This is my personal newsletter. People subscribe at JoePulizzi.com and it really has nothing to do with my business, The Tilt. This has, in many ways, become an issue.
As a content entrepreneur and content creator, I know I should absolutely align this newsletter with my business in some way. On the other hand, I have people who open this newsletter who aren't necessarily content creators or care about marketing in any way. They are basically "fans of Joe," which is my most important audience 😉.
Anyway, I'm talking with The Tilt team tomorrow about trying to figure out how to integrate this newsletter into the business in some way. So… changes are afoot. More to come.
——
So, back to this 100th issue. Yeah, I was stuck, until I realized this is not MY 100th issue. It's YOUR 100th issue. The Random has always been about delivering value to you, the readers, of this completely free fortnightly publication.
Based on my tireless audience research (which amounted to about six emails coming from the readers of this thing), I'm going to cover areas I believe are truly important for you and a successful 2023 (but mostly things my wife wanted me to cover ;).
So, without further ado, here goes.
My 10 Best Ways to Get Content Ideas
Reader and friend Brian Piper (and co-author of the next edition of Epic Content Marketing) asked me how I come up with fresh content ideas after 100 issues. Here are my top 10.
Read a fiction book. Since I'm in the marketing/content area, most people wonder if my best writing ideas come from reading business books. Not a chance. I read at least 15 minutes of fiction every day. It's my #1 resource for writing ideas.
Just write. No one likes to hear this, but it's true. Sometimes you just have to sit down and start typing. About anything really. That's how I wrote my novel, The Will to Die. It took about four weeks of writing every morning just to start uncovering a story that wasn't horrible.
Podcasts. I love listening to music, but podcasts are where the money is at. Any podcast will do. I prefer mine while running. Sometimes I have to stop while I'm running and read out notes to my phone so I don't forget the ideas.
Talk to my kids. Holy holy this is amazing content. Talk to them about anything. When I was their age I grew up in a completely different world. They look at life so differently. Just ask them questions.
Talk to my wife. If I can just listen to her without interrupting with MY thoughts on the matter, I actually get quite a few writing ideas from our conversations.
Facebook. Ha, just kidding. I've never had one good writing idea that came from FB.
Running. Or any strenuous physical activity for that matter. Pushing yourself physically forces you to escape through thinking.
Take a shower. This could easily be number one. I'm not proud of the amount of water I waste standing in the shower thinking about life. I really need one of those writable boards that go in the shower.
Read my journals. I have hundreds of old journals that I scratch notes in. Most of it is gibberish, but for some reason when I read through old thoughts new thinking arises.
Ask questions. Talking to my audience is always beneficial. If I can figure out what that particular person is struggling with, I can generally create three or four articles, podcasts or presentations from it. I guess their pain is my power.
——
My wife Pam asked me to do the following in this newsletter: list 100 things I want to do, 100 books to read, something to do every day for 100 days, and 100 ways to make your wife smile. Below you'll find my answers, but I knocked off the zero with each one of these because I'm lazy.
——
10+ Things I Want to Do
Travel more. I listened to Trevor Noah recently who said, "the cure to ignorance is travel". I agree with this 100 percent. I've been blessed to travel to over 20 countries…and it's still not enough. Bucket list items to hit in the very near future are Greece, New Zealand and Japan (with my youngest son).
Run a Marathon. I can't believe I just typed that.
Sell individual stocks and buy ETFs. I pride myself on being a decent investor. Most of my investing I do by buying individual stocks. That said, it takes way too much time and energy to follow all these companies so I know what I'm doing. And honestly, it's not worth the energy. Just diversify though ETFs and call it a day.
Write another novel. It's nice that so many people want me to write the sequel to The Will to Die. Do I have another novel in me? I think so. My plan is to start writing another novel in 2023.
Downsize. My wife and I have been through a few situations where loved ones needed to downsize. OMG this is such a challenge. Best to start ASAP on this so everything I own can fit in a tiny house.
Stay close to my kids. I don't have an action plan for this, but I'm hopeful my kids will always feel like they can talk to Dad…about anything. Texting them about stupid things is my current go-to strategy.
Less TV and less social media. Basically, this comes down to using my time more wisely.
Take care of my body. I'll be 50 next year. Probably need to make better choices with what I eat and drink (as I drink a soda after finishing a bowl of queso).
Help others. I know, so broad, but…I have made so many mistakes and learned so much…I feel some of these experiences would be valuable to other entrepreneurs, creators, dads, husbands… I think that's why I love the book writing process so much. I currently have a one book every two years plan. Maybe I should increase that.
NFTG. I'm still affected by what other people think and do. I hate to even admit this. I'd like to focus more on doing my thing, doing what I think is right and stop caring at all about what other people think and do. This is getting easier as I get older. Maybe I'll get there someday.
More cruises with friends. You know who you are!
10+ Must-Read Books (or Series)
Note: These change on a daily basis based on my mood.
Stranger In a Strange Land – Robert Heinlein (greatest novel ever IMO)
A Gentleman In Moscow – Amor Towles
Project Hail Mary – Andy Weir (amazing sci-fi)
Matthew Corbett Series of Books – Robert McCammon (early 1700s mystery)
The Carls Series – Hank Green (sci-fi…your kids will love it too)
Amos Decker Series – David Baldacci (memory man series)
Monkeewrench Series – PJ Tracy (IT thriller)
Ready Player One – Ernest Cline
The Big Short – Michael Lewis
On Writing – Stephen King (best book on writing ever)
A Man Called Ove – Fredrick Backman (you'll cry)
Kate Burkholder Series – Linda Castillo (nothing better than Amish suspense thrillers)
Anything by Blake Crouch
Something To Do Every Day for 10 Days
Set big but measurable goals and read them every morning before you do anything.
Don't open your email until you've accomplished at least one thing.
Send a note to a different friend each day. Written/print/mailed preferred but texting is accepted.
Before stating ANY opinion ask a question first.
Kiss your significant other.
Donate something to someone in need.
Throw away something you have kept for more than two years.
Visit someone who doesn't get many visitors.
Support a local shop or restaurant instead of Amazon or a chain.
Think about yourself in their position before you criticize. Or just don't criticize.
10 Things to Make My Wife Smile
Don't start any more businesses (this may be personal to just me, but…).
Smile at her (this is easy…research shows that when you smile people smile back).
Leave little notes around the house.
Listen. No, I mean really listen.
Plan a date (or two).
Pretend (every now and then) that we are still dating.
Encourage her.
Stay in bed a few minutes longer in the morning before running to the coffee machine.
Do groceries together.
Be present (this could easily be number one).
Use her ideas when writing this newsletter.
——
Well, that's it for #100. I hope you found it worthwhile. I know I did…I feel like I have a lot to do.
If you feel compelled, email me back one big thing you are working on for 2023. That way I can help support you in reaching your goal.
Best,
Joe