The Summer Blues
I figure venting to you about it is a lot cheaper than going to a therapist.
It's weird. Everything is going along just fine and then one small thing happens and I'm in a funk for two days.
Then I look at every little aspect of life like it's the end of the world.
I was in a good flow with reading books for a few months. I read two amazing books by Amor Towles (Gentleman in Moscow and The Lincoln Highway) and two more incredible books from Madeline Miller (The Song of Achilles and Circe). But for the last month I can't get hooked. I've picked up a dozen books and stopped after a couple chapters on each one.
My literary world is crumbling…
My golfing has been incredibly…average. No matter how I start a round, I'll end up with between a 41 and 43 (for nine holes). This has happened for 10 weeks now. Average, average, average. Part of me wants to see what a 49 feels like because Lord knows a 38 is impossible.
I am humbled by the golf gods…
A month ago, I started working on losing a few pounds. I've been weighing myself every morning, watching all my calories and I work out almost every day. And guess what? This morning I weighed the EXACT same as I did 30 days ago. What the heck?
I didn't want to wear those short shorts anyway…
This has extended to my writing. Last week I wrote an article on portfolio diversification for an outside publication. It took about an hour to write. Once I was done, I hated it, pitched it and haven't been able to start again.
And don't even talk to me about the market. One of my past times was watching particular stocks and crypto, and for major health reasons I've stopped looking at the prices (at least not every minute of the day).
Oh, and I can't see anything on my phone so I had to increase the font size to "elderly" so I can actually read the emails. But I REFUSE to get bifocals or progressives. And I say that knowing full well that I will be doing just that in the next few months.
Oh geez, that reminds me…taxes! I just love getting all those extra emails from my accountant that I owe even more taxes than we projected.
I'm not even going to talk about the rat that crawled up our toilet. Nope…not talking about that one bit (the plumber is actually here at this exact moment).
I realize that (most of) these are all very much first-world problems. That's what is so disturbing when I get into a funk. I know how blessed I am, and yet…
It happens. In the past, I used to get in these funks every February. I mean EVERY February. It would be brutal. My wife and I knew it was coming and she'd prepare a lot of nights out with people that did not include me (the party pooper).
But then my wife made February more of a "month of fun" where we would travel, and I would actually get to see the bright orb in the sky (Cleveland averages three days of sun in February).
But then, as soon as we tricked February, it moved to June. Can you believe the gall of February to move into one of my favorite months?
So I'm going to let this bad attitude stay with me for exactly one more day. Starting July 1st, I'm going to tell this funk where to stick it.
Do you ever get in a funk? If so, how do you get out of it?
What Makes a Successful Creator
The Tilt just released their 2nd annual creator economy research findings on what a successful content creator looks like. It's completely free and NO SIGN UP FORM. YAY. Download it here.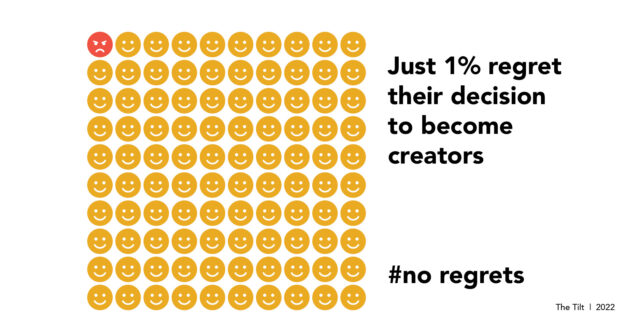 Some interesting findings include  –
Just 1% regret their decision to become content creators. This group is overwhelmingly satisfied with their decision to become creators – and this finding holds true regardless of the number of years since they've launched their business and the amount of money they earn.
Full-time creators need roughly 17 months to earn enough income to support at least one person. And they tend to bring on outside help at the 25-month mark. It takes about six and a half months to generated dollar one.
The top motivator for full-time creators is independence – the desire to set their own schedule, goals, and career path. 90% say they chose to launch content businesses to seek out "financial freedom on their own terms."
Couple thoughts –
From my own experience, once you leave the corporate environment, you'll never go back if you don't have to. The freedom and independence is addicting. So, as much as this is about content creators, it's also about entrepreneurs.
Some in the industry have remarked that the 17-month number is too optimistic. When my wife and I launched Content Marketing Institute it was over two years. That said, we were also generating revenue immediately (just not making money).
In looking at many of the individual comments, almost no one was in it to become a millionaire. They simply wanted enough to support themselves, their family and their style of living.
Maybe we need to redefine wealthy, not in terms of money but in terms of independence. Maybe content creators are actually time millionaires.
If you get a chance, let me know what you think of the research and where we could have done better.
Random Idea – Saying Yes
I'm a big "saying no" kind of guy. I've written many times on staying focused, becoming an expert in one thing, and saying no to things that distract you.
Yesterday I was producing a podcast. My oldest entered my office and asked me if I wanted to go for a walk.
I'd been working on the podcast for a while. I needed 20 more minutes. I almost told them I couldn't. I actually thought about saying no for a second (shame on me).
BTW, all this thinking happened in a split second. I immediately (to them at least) followed them downstairs and went on the walk. It was amazing.
The podcast, the article, the work, the meeting. Those things can wait. Say yes to the things that matter.