It's Cheap in Europe
I remember traveling with the family to London in 2016. It was right after we officially sold Content Marketing Institute. We left on Father's Day that year, which was the exact same day as Game 7 of the NBA Finals (Cleveland Cavaliers vs. Golden State Warriors).
My son Adam and I listened to the end of the game while in mid-air (about 3 AM London time). When Cleveland won, we couldn't believe it. It was Cleveland's first major sports championship since 1948 (Cleveland Indians). One of the flight attendants was from Cleveland and the three of us hugged it out while everyone else slept.
London seemed expensive at the time. We were paying about 20 to 25 percent more for everything because of the dollar/euro exchange rate.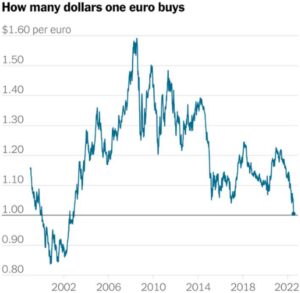 Well, this week the US dollar and the euro are now worth the same. They are at parity for the first time in 20 years (chart above courtesy of Factset).
COVID variants aside, it's a great time to travel to Europe. We are looking into going to Athens. If you've been there, let me know what you thought.
Old Content…Not New
About nine months ago I received an email from someone who just purchased my book, Epic Content Marketing. They were saying how much they liked the book, which was great, but I was really bothered by the email.
You see, I wrote that book in 2012, published in 2013. In my opinion, the book was seriously out of date (Google plus, now deceased, had a major role in the book).
A few weeks later I was in an online chat room promoting the new release of Content Inc. During the chat, Brian Piper, who I'd met through Content Marketing World years back, asked me why I hadn't updated Epic. I had no good excuse.
I basically told him (in that chat) that if he wanted to update it, he could take it on with me.
Well, this week Brian and I delivered the final manuscript for the brand new Epic Content Marketing to McGraw-Hill Education. It will be published and available in January, 2023.
As content creators, we always focus on creating new content, when many times we should be updating the old content. I recorded a four-minute podcast on a simple strategy to do just that (you can listen here).
My suggestion? Start with your most popular content first. Take your top 50 web pages make sure the content and calls-to-action are correct. Check your keywords as well. One of the best search engine optimization strategies (to get found on Google) is to update old content.
BTW, it's not just for web content. You can update your top videos and podcasts as well. Make it a priority to create a plan in the next couple weeks and get a process started.
Crawdads
Just read "Where the Crawdads Sing" by Delia Owens. What an amazing story. I highly recommend it and I'm very much looking forward to the movie. I can't believe this was Owens' first novel.
Subscriber Joe Waters recommended "Swan Song" by Robert McCammon. I'm halfway through and I can't put it down. If you are a fan of science fiction, apocalypse stories and a little gore, it's a doozy. Thanks for the recommendation, Joe!
I'm Reading…
I thought this article about how Netflix should/could have their own theme park is fascinating.
Spotify just bought Heardle. In other words, they bought 41 million visits per month. As a tie-in, they are letting players stream each day's song for free. Great integration.
Everyone, except Twitter, knew the Elon buying Twitter thing WAS NOT going to happen. Now Twitter is suing.
Neiman Lab reports that 33 percent of news subscribers cancel in the first 24 hours. Presumably, they are buying access to one or two articles, then cancel. There has to be a better way.
Oh…if you made it this far, I'm giving out $20 in $TILT coin for a new review of my podcast Content Inc. or This Old Marketing. Just send me an email with proof of the review and your Rally ID and $20 is yours.