CEX a Success!
For those of you who couldn't make it, the first-annual Creator Economy Expo was a hit. Over 350 content creators attended CEX at the Arizona Grand Resort in Phoenix. I'm thankful the reviews have been overwhelmingly positive.
Because of a generous donation from book publisher Lulu, we can give away all the videos from the event FOR FREE. You can sign up here to get access to them.
We haven't set next year's date or location yet, but it will be around the same time. I'm already working on the programming for next year. That's right…I have major issues.
100 Hole Marathon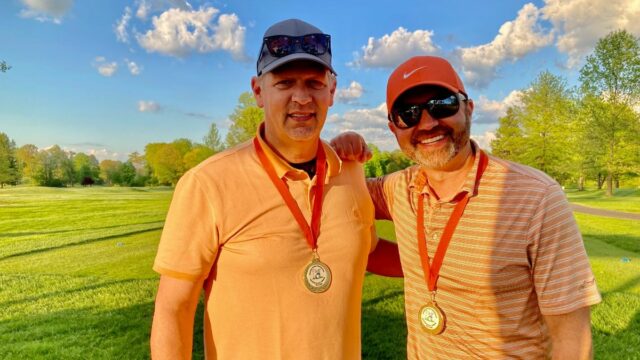 A special thank you to those who supported me in golfing 100 holes earlier this week. We were able to raise well over $40,000 that goes directly to children who can't afford speech therapy.
There's still time to support our cause. You can do so here.
Our next event, The 16th Annual Orange Effect Foundation Golf for Autism, is August 1st. If you'd like to golf or support the cause, please do so here. We need AM and PM golfers.
Don't Get NFTs? Watch this
Adam Mosseri is CEO of Instagram and gave a powerful speech on where social media and content creation is going. You can watch the whole thing here…it's 13 minutes.
Although I have some issue about how he defines "creators," he does advise that content creators should not be dependent on platforms they do not control. He also talks about Instagram and the future of Web3.
The part that really hits home is how he believes that, in the very near future, creators will have direct financial relationships with their audience (not needing the likes of YouTube, Substack, Patreon, etc.).
The guy doesn't sound like he's the CEO of Instagram. I wish they weren't part of Meta.
Give it a watch. You won't regret it.
Why NFT Ownership Is Actually Different
On episode 312 of the Content Inc. podcast I talked about NFTs as NETs, or never-ending tickets. My belief was that an event could pre-fund a conference by selling a lifetime ticket to attendees. This ticket would be at a higher price than a standard ticket and give the owner the ability to help invest in the future success of the event.
Of course, since, to my knowledge, it had never been done before, it was all a big theory.
Now we have some data. Let's discuss.
Leading up to Creator Economy Expo we sold 34 of 100 Never-Ending Tickets to CEX (as NFTs). Basically, those that purchased the ticket were betting on me…at least I suppose they were. I mean, there was no product yet. CEX did not exist. How could I even promise that there would be a second or third event when there wasn't a first one?
About 25 of the 34 were able to attend CEX. The day before the event we gathered for a roundtable discussion where we were all able to meet each other and talk about what we'd like to see, for the conference and for each other. Then, each NET owner was able to attend the speaker's party as a VIP member.
During the event, two NET holders, Brian and Gina, introduced keynote speakers. I only asked them to introduce the speaker, but both went on in detail about why they purchased a Never-Ending Ticket. Frankly, it was magical. Then, right before lunch, I was on my way to send everyone to break when I received a text from NET owner #8 Brian Piper. Brian said this:
"I'm sure your already planning this, but you should mention to everyone that if they bought a ticket this year, that money is gone. Well spent, but gone. If they upgrade to an NET, they get to come next year… and they can resell that NFT anytime. It makes their fee an investment not an expense."
I read this from the stage.
By the time the event was over, we had over 20 additional people sign up for the NETs.
So now we are working with individuals who attended the conference, helping them set up their digital wallets and transferring the NET NFTs over to them.
Some details – To break this down, the event owner (me) gets funding up front in the form of these NFTs. At the same time, the attendees get lifetime access to the event, lifetime VIP access, and the ability to sell their NFT on the secondary market (Opensea in this case) if they ever tire of holding the ticket. And as the owner, we get 5 percent of the sale price, which is written into the smart contract.
You could say these people are my, or our, superfans, but it's more than that.
They are now my friends. I rely on them for feedback. I talk regularly with over 10 of the NET owners and they give me valuable guidance on the event and on The Tilt.
I've been in the media industry for over 20 years and I've never, ever seen anything like this. If this is what a community is, I'm in love with it. It's incredible. They feel vested in our business model and, frankly, I don't want to let them down.
More to come as I continue to try and figure this thing out. LMK if you have any questions.
If you like what we are doing and would like to get in on this, just go to mint.cex.events or just email me and let's see if we can get you one of the 40 remaining never-ending tickets before they're gone. I hope to hear from you.
Be Present
Pam (my wife for those newer readers) and I watched the movie Rumor Has It… with Jennifer Anniston and Kevin Costner. It's about the real story behind the book and movie, The Graduate.
To be honest, it's not worth seeing. But…there was one scene that stuck with me.
Kevin Costner (playing the real-life Dustin Hoffman) said that he was disappointed with life for so long, until he started to live by a new mantra: be present in every moment.
I don't do that enough. Too many times I'm thinking about something in the future or something I could have done differently, and not truly appreciating the moment. If you aren't present in the moment, isn't that the most disrespectful thing you could do to the people around you? Who love you?
I'm working to be more present in each moment, and even after just a few days I already feel like life is that much sweeter.