CEX – Save the Date
We just announced the dates for Creator Economy Expo 2024. The event for expert content creators will happen in Cleveland (of course) at the Renaissance Hotel Cleveland, May 5th to 7th.
I'm super excited about the venue this year. The Renaissance has been in heavy remodeling mode for the past year, and all the changes will be complete by the time CEX rolls around. I had an opportunity to take a hard-hat tour a few weeks ago and the modifications are amazing.
We are expecting between 400 and 500 content creators. Registration will be open in a few weeks. Stay tuned.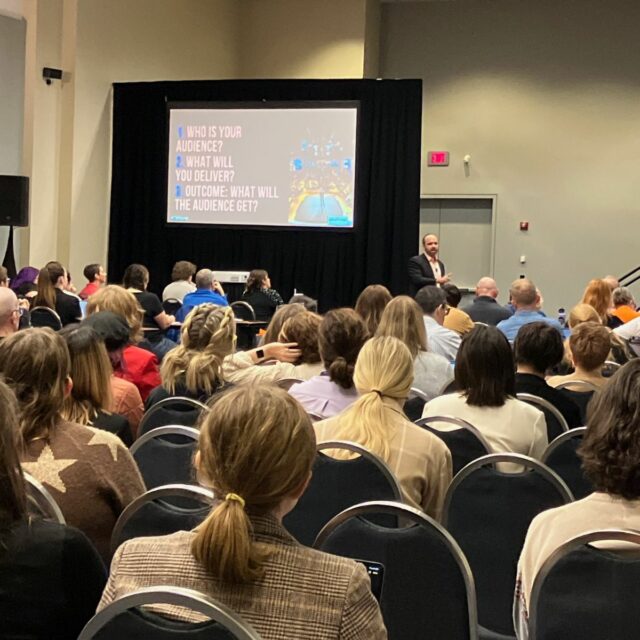 How to Quit Your Job
As promised, here is my PowerPoint presentation from Content Marketing World on quitting your marketing job to start a content business. I was pleasantly surprised with the attendance. I wasn't sure how many marketers would attend a speech that was telling them how to quit their job. From what I could tell, we had almost 200 in the room. Thanks to everyone who attended.
Ann Gynn put together an article summarizing my talk. Thanks Ann!
The CMW team did a great job organizing the event. Reports were that over 2,500 attended, so the event continues to creep back the losses during the COVID years.
The Slow Death of Twitter
In-person events have changed immensely over the last 12 months, and not in a good way. Who's to blame? Elon Musk.
For over a decade, live events and Twitter went hand in hand. While the event was taking place IRL, attendees (and onlookers) were sharing their thoughts on Twitter.
We saw the power of this firsthand with Content Marketing World when we launched it in 2011. The best sessions received the most Tweets. Conversations were happening as people were on stage. People who couldn't attend still felt a part of the event by watching or engaging in Tweets. If you attended the event by yourself and didn't know anyone, you could start a conversation with someone via Twitter and meet them for coffee later, or perhaps in the exhibit hall.
Everyone came together around the event hashtag.
For months, I've been noticing fewer and fewer people using Twitter during the live events I would attend. Some people I talked to just stopped sharing content during an event at all. Others started to share on LinkedIn, Instagram or even Threads. The fewer conversations are now happening all over the place, which is not good for the success of an event.
Last week at Content Marketing World in DC, X (formerly Twitter) was a veritable ghost town. The same few people were sharing content, and mostly, from what I could tell, were just tweeting at themselves.
I don't have any solutions for the loss of Twitter, either as an attendee or an event producer. It just makes me sad.
My friend Dennis Shiao wrote a nice post about this as well on his LinkedIn page, so I'm definitely not alone in noticing the change. Take a read here.
The Impact of Student Loans
US spending is going to take a real hit over the next few years. Why? The moratorium on student loan payments is over.
For the first time since March of 2020, former students will have to start repaying their loans. Some analysts estimate that the repayments could take between $70 billion and $100 billion in consumer spending out of the economy over the next year. This could affect travel, the stock market, real estate values…who knows?
This is something to keep an eye on closely, especially as the United States continues to fight staying out of an economic recession.