Golf for Autism
Our 17th Annual (can you believe that?) Orange Effect Foundation golf outing scramble is coming up August 7th at Elyria Country Club. If you live in Northern Ohio, please join us. Singles or foursomes welcome.
We are also in search of hole sponsorships for $250 each. Donate here. Each hole sponsorship covers five hours of speech therapy for kids who need it but can't afford it. Most of the Orange Effect children are on the autism spectrum.
OEF now has grants out to over 350 children in 35 states.
Thank you so much for considering and spreading the word.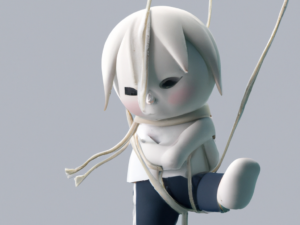 Zuck 1, Elon DNF
Like most others in the marketing space, I've been watching the launch of Meta's new Twitter competitor, Threads, very closely.
Actually, it was less than 24 hours after launch when Robert Rose and I went on the air for This Old Marketing to discuss it (you can watch and listen here).
For newbies, last week Meta (the parent of Facebook and Instagram) launched a new social media app called Threads. Basically, it's Twitter from 2008.
The week of May 26th there were rumors about Meta launching something like this. On that date, I made a big prediction that Meta was just poking the Elon Musk bear and would never launch something as silly as Twitter (which has a horrible business model IMO). It would just be a waste of time. So, if Meta decided to launch such a thing, I said they should call it Instaflop (because it would be an instant flop for sure…and playing off Instagram a bit…clever, right?).
Well, I was most definitely wrong…and now I see the light.
Some thoughts:
1. On the podcast I said that Threads would have more users in the US than Twitter by the end of July. Pulling from Instagram's two billion user base makes this pretty easy to accomplish.
Wow was I off on this? In five days, Threads hit the 100 million user mark (Twitter has less than 80 million users in the US). Whether they keep the users is one thing, but social media growth like this has never been seen before. Just for reference, it took ChatGPT two months to get to 100 million users.
According to the company, they aim to be "the public conversation app with 1 billion people on it". So far, it looks like they might make that happen.
2. Threads won't need monetize the site for the time being (they honestly never have to). It's a data and loyalty play.
This is where I was wrong before. The Twitter advertising business model just doesn't work. Ads on Twitter never performed well (compared to Facebook and Instagram) and subscription and verification on that platform is up in the air. Thus, I figured Meta would stay away from it.
But, if they decide NOT to advertise on Threads, it's brilliant. First, when you sign up to Threads you basically sign away your first born in the form of data. You give Threads the right to take every little bit of data they have on you (which will help them create better ads on FB and Instagram). Also, the more time to you spend with Meta's products, the better for Meta.
When I was at Content Marketing Institute, we knew our best customers came from those who engaged with us on at least three platforms (i.e., a podcast, blog, webinar, newsletter, magazine, etc.). More usage equals more loyalty. If that's all Threads did, it may be good enough.
So…a data and loyalty play…but it also seems to be driving Meta verification, which gives you the blue check mark on Facebook, Instagram and now Threads (so there is a bit of a revenue play).
3. Twitter has gone from $44 billion in value to (easily) less than $5 billion. There is a case to be made that it's worth more to Elon to just scrap it and take the loss (although he won't do that because of the other investors).
Simply put, Twitter can't match Threads because Twitter has to make direct money from the app. Threads doesn't have to. It's like competing against a non-profit organization.
4. Mark Zuckerberg thanks his god every night that Elon Musk bought Twitter. If Elon didn't buy Twitter, Threads would not exist.
I don't talk about this much, but in 2009 I attended a "content marketing event". Frankly, it was terrible. If I didn't go to that event, I probably would have never been compelled to launch Content Marketing World about a year later.
I think the same thing happened for Mark Zuckerberg. He saw Elon destroying Twitter and the light bulb came on. After Zuck's Metaverse pivot, he desperately needed a win. Elon gave him one.
In summary, I've seen mixed reviews about Threads. Some people are complaining about seeing people in their stream that shouldn't be there. Others love it because it reminds them of Twitter pre-2010. It's early yet, so no one really knows…but I'm not an Elon fan, so if he takes the loss on this one, I won't be crying about it.
Oh…and a final note.  I believe a message on Threads should be called a Tweet. There…I said it.
We Don't Talk about Bitcoin
A few of you have been asking me about my thoughts on Bitcoin and if they've changed at all recently.
For those of you new to this newsletter, I'm a big believer in Bitcoin. I believe it's important that we have a currency available that is not influenced by any one nation. Its rules are set in math. There will never be more than 21 million Bitcoin, so the inflation is predicted in advance.
I first learned about Bitcoin in 2016. I bought my first Bitcoin through Coinbase in 2017 at around $2,600. Since then, it's been as high as $69,000 per coin and as low as $3,000. Even though Bitcoin been around since 2008, it's still incredibly young and immature, hence the volatility. As I'm writing this, a Bitcoin is valued at $30,500 (up 100 percent in 2023).
This is not in any way investment advice, but here's how I see it.
If you can't get your finances in order, stay away from Bitcoin. That means if you don't have your retirement accounts set up and don't have a long-term investing strategy, I would get the basics down first. For example, get out of debt, get a Roth IRA and make sure you have a will.
If you have all that in order, I believe about 1 to 3 percent of your wealth should be put into Bitcoin. You can see my entire investing strategy here, which gives a bit more detail.
But…this is a long-term strategy. Short-term, we have no clue what will happen, especially since the SEC is very much against cryptocurrency of any kind (at the present time). Any money you need in the short term should NOT be put into stocks, bonds or Bitcoin for that matter.
If you decide to purchase some, you can use a tool like Coinbase or Swan to purchase it, but I WOULD NOT keep your Bitcoin on those platforms. Simply put, I don't trust any outside organization when it comes to holding my crypto. So, purchase it and then self-custody your Bitcoin using something like a Ledger cold wallet (that's what I use).
We own Bitcoin and Ethereum. I don't have faith in any other cryptocurrency at the present time, but very much believe in both of these over the long term.
My theory (at present) is that Bitcoin will have the market capitalization of gold inside 20 years. Gold's market cap is currently $12.7 Trillion. Bitcoin's is $593 billion. That means that Bitcoin will have to increase more than 20x from here to reach the market cap of gold. As more and more large institutions buy into Bitcoin, I believe this will happen.
If you have any questions about this at all, please email me. I'd be happy to take a crack at any question, but just know that I am not in any way shape or form a financial expert.