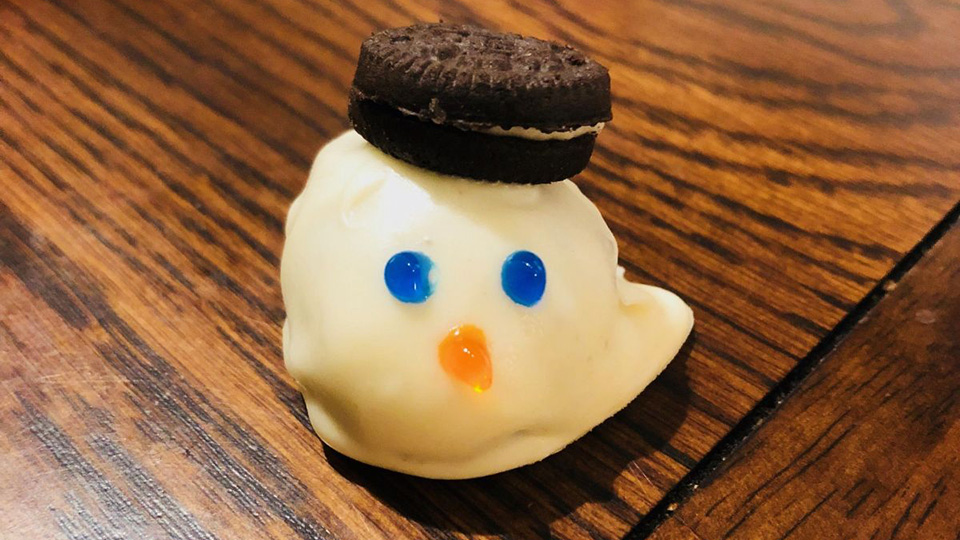 Well, my one-year sabbatical finally came to an end. It was one of those life altering experiences. The LinkedIn post I wrote about it received some good traction. Some people suggested I write a book about it, but I'm not sure there is enough there. A local Cleveland news station just interviewed my family about the experience, which I'll include in the next issue.
BTW, the picture above comes from a Food Network recipe. It's a No-Bake Oreo Truffle Snowman (recipe here). My wife Pam made them. I added the eyes and nose, took the picture and sampled them.
Thank you for subscribing to this enewsletter. It's a pretty big leap of faith since you had no idea what I'd be sending you. When you finish it, please email me your thoughts. What would you like to see more of? Less of? How often would you like to receive it? This is the first content initiative I've developed without a plan, so who knows where this will go.
Random News
I Would Like Some Raspberry Pi
We bought my oldest son Joshua a Raspberry Pi last year. It looks like someone just removed a spare part from inside a computer. Basically, it gives you enough power to set up a computer workstation wherever you are. I think Joshua used it at some point to hack into his school servers (that's a joke…sort of).
This article about Raspberry Pi's content marketing just fascinated me. Apparently, Raspberry Pi purchased two computer hobby magazines from Dennis Publishing. If you're not familiar with Dennis, they are a UK media company with over 30 brands including Money and Auto Express (Dennis is a media company that's made the transition to selling products…they now sell a ton of cars).
It turns out that Raspberry Pi has a division called Raspberry Pi Press where they create and distribute a number of magazines and media sites. We will continue to see more of this…media brands getting purchased by product companies…and product company marketing looking a lot like what a media company does.
LinkedIn Launches Live Video
LinkedIn just announced the launch of their live video service. Good move by them. I've seen a ton of people talk about experimenting with this. My guess is that you'll see a flood of people using video on the platform, and the ones that have something interesting to say, which do so on a consistent basis, will be the real winners.
I've also been seeing more companies and people launch a LinkedIn Series, which is like a magazine or newsletter inside of LinkedIn. I like this idea, but be sure you realize you don't control the audience there (LinkedIn could take away this feature at any time). I think launching a LinkedIn series in concert with your own enewsletter (where you can control the database) is a fantastic idea.
EA Launches Fortnite Killer?
Fortnite is a free multiplayer survival game with over 200 million players. My kids don't play it, but I know dozens that do and spend lots of money so they look cool on screen.
The big gaming companies, like EA, Take-Two and Activision Blizzard have been taking a beating in the stock market because of Fortnite's success. Well, EA launched a game last week called Apex Legends, a free multiplayer survival game (go figure). They just launched it…no marketing or anything. In three days over 10 million people signed up to play. As of today, they have over 25 million. It's been an incredible success.
Why should you care? Yes, the video game industry is booming (and will continue to). But the real winner in all this? Amazon. Amazon owns Twitch, which is basically the YouTube for gamers. They stream their game play live and create episodes like someone would on YouTube.
Twitch has 140 million monthly unique viewers. Every time a new game like Apex Legends comes out Twitch gets a boost (more players streaming their game play). And guess what? Amazon has barely even monetized this site yet. If you have kids who want to be YouTubers have them check out Twitch.
Texting Prank
If you haven't seen James Veitch's wrong number texting bit you're missing out. It's a five minute video. My wife sent this to me, so if you don't like it blame her.
Economist's Research on Content Marketing
When I found out The Economist launched some research on content marketing, I was naturally intrigued. Unfortunately, I wasn't impressed. The research is more about promoting content through trusted media channels (like The Economist) and less about building an audience through valuable distribution of content (content marketing).
If you're in the industry, it's worth a download. There are a few good stats you can use…probably most helpful for a media company who sells content marketing. I wish they didn't talk about content marketing like it was an advertising program (short term). Try some paid social. Try a little interactive video. For most companies, these things won't work. Try one channel with one main content type and deliver something of value consistently over a long period of time.
Carter Wins Another Grammy
Jimmy Carter won a 2019 Grammy Award for best spoken word album. It turns out this is his third Grammy award. Who knew?
---
The following was an excerpt from Joe's newsletter. Only subscribers receive the full version.