If you've been following along on The Random, I've been writing quite a bit about DAOs (check out this issue) and digital property rights (from last issue).
Most of the DAO (decentralized autonomous organizations) examples I've been sharing are for media companies and crypto projects. Well, here's one that really got me thinking.
Earlier this week, investor Packy McCormick (and friends) launched ConstitutionDAO. Their goal? To buy the actual constitution.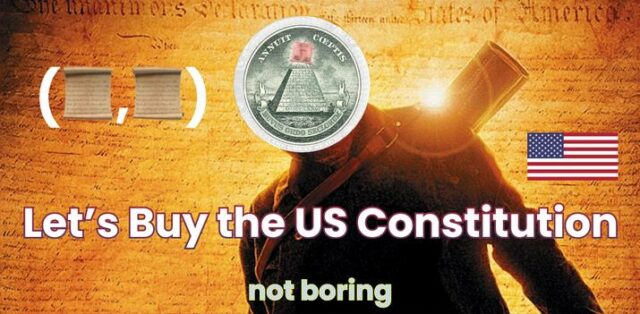 Let me digress.
Auction house Sotheby's is auctioning off one of the official versions of the United States Constitution this Thursday. The estimated price is to go between $15 and $20 million dollars.
ConstitutionDAO's goal is to purchase this version. They say:
"We're buying the US Constitution.
For the first time in thirty-three years, one of thirteen surviving copies of the Official Edition from the Constitutional Convention will be publicly auctioned by Sotheby's. It is the only copy that is still owned by private collectors. The proceeds from the auction will be given to a charity that has been established by the current owner."
They have all kinds of plans for it, including giving this version to the Smithsonian Institute and then working out a plan to buy more US artifacts.
As I type this, they've raised well over $5 million dollars (UPDATE – as of 3:58PM ET on 11/17 they've now raised $25 million dollars), with some individuals giving just a few dollars while others are giving tens of thousands. For their giving, they all own part of the new entity.
Crazy, right?
Just a few days ago this would have been impossible, but now because of the blockchain and the token, groups of people can easily come together into a real business and govern themselves.
Will this work? Looks like they have the money depending on how high the bids go. I did give a little bit myself to support the effort.
If they pull this off it will be the largest group purchase in history (according to Sotheby's) and the most expensive one item in history.
I joined their discord group, which has added over 10,000 members in just a few days.
Why am I telling you all this?
Start thinking of the applications.
Want to keep a historical structure in your town? Start a DAO.
Want to buy a minor league baseball team? Start a DAO.
Want to buy a bar with all your friends? Start a DAO.
Word of warning. There are all kinds of legal landmines here because, well, we know nothing about this new legal formation.
That said, THIS is what the internet was built for. Now groups of people can more easily pool resources, own things, and self-govern.
Thank you Mrs. Token!
FYI, here's a short podcast on ConstitutionDAO from The Breakdown with NLW.
---
Speaking of tokens, I found a couple interesting articles around the same topic.
First, Disney seems to have big plans around the metaverse (of course they do). Read more here.
Second, Harvard Business Review did a pretty good overview of the good and bad about NFTs. Read more on that here.
---
You Don't Know Stress
My oldest sent me another great video this week…this time about stress.
Here's a very interesting (and helpful) 13-minute video from psychologist Kelly McGonigal on how we really know nothing about stress.
My takeaways?
Stress itself isn't good or bad, it's how you perceive the stress. For example, if you are feeling stress and belief that it's making you sick, it is. On the other hand, if you believe stress is preparing you for great things, then it is. Stress, with the right attitude, gives your body the same chemical properties as courage.
This reminds me of the quote in the movie Bull Durham.
"If you believe you're playing well because you're getting laid or because you're not getting laid or because you wear women's underwear, then you are. And you should know that!"
Also, the more you care about other people, the more your body will be resilient against bad stress. Love more, live longer? I think so.
How Are Your Stock Market Gains?
I'm a free subscriber to the Pomp Letter from Anthony Pompliano. In his last newsletter, he questioned this year's stock market gains.
Since the pandemic started, stock market gains have been crazy good. Or have they?
Well, it depends on what you measure them against.
If you use the highly inflated US dollar, gains look great. BUT, if you look at those gains against, say, Bitcoin, the gains are terrible.
In the last 12 months, S&P 500 gains are 29 percent if US dollars is the denominator. If you use Bitcoin, returns are negative (see chart).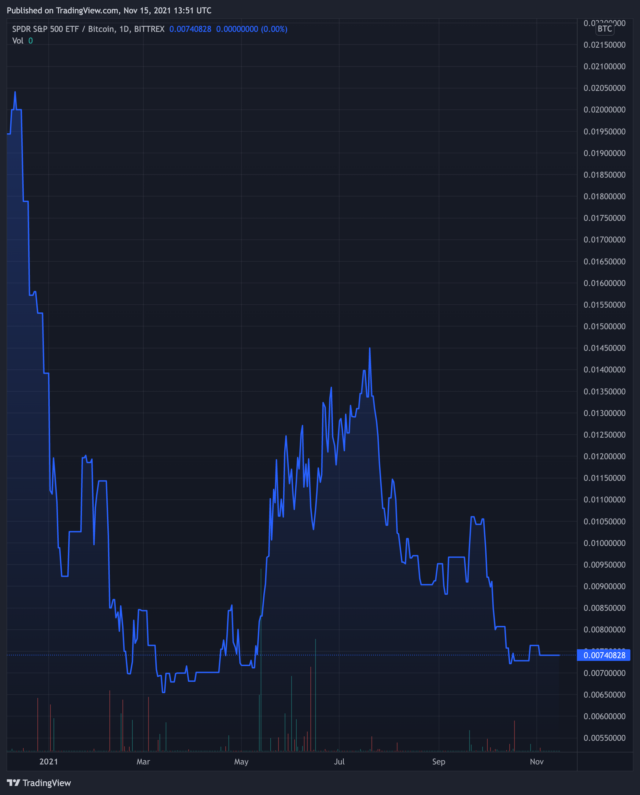 I'm only telling you this because sometimes we need to change our perspective.
Disclaimer: I own S&P stocks and Bitcoin.