The IRS Can't Keep Up
It looks like the Internal Revenue Service (IRS) is short on workers just like Qantas Airlines (Quantas is so short on baggage handlers that they've asked their executive team [gasp] to carry bags for three months).
The TL;DR
In February I helped a friend of mine do his taxes. I didn't have the required information to submit it electronically, so we mailed it in. Good news…it was a refund.
Problem? Six months later and no refund check yet.
So…like a good friend I go to IRS.gov to find out the problem. Here's what I found:
"As of July 29, 2022, we had 10.2 million unprocessed individual tax year 2021 returns. Of these, 1.8 million returns require error correction or other special handling, and 8.4 million are paper returns waiting to be reviewed and processed."
Amazing, right?
In our case, the refund was just processed…a full six months after we submitted. I'm not complaining here…just another proof point that most companies in literally every industry is short on workers.
Also, make sure you electronically file your taxes.
So…despite the US going two consecutive quarters of negative GDP growth (generally points to a recession), the fact that we still have so many job openings and are still growing jobs at a staggering rate says no recession (July jobs in the US increased by over 500,000).
The Online Gambling Fallout
Unfortunately, this is your warning for bad things to come.
Let me explain.
A few years ago, my youngest son started watching Twitch streamers gamble online. Some of his favorite streamers would bet thousands of dollars at one time.
For example, Roshstein, a Twitch slots streamer since 2016, has over a million followers on Twitch and regular gets 500,000+ views of an online gambling stream (that lasts five hours or more). Roshstein regularly bets thousands of euros per spin. Online betting sites like Stake.com and Roobet pay streamers like Roshstein to bet. If the streamer loses big (which they do most of the time), it's okay because the betting company is funding them.
Now, before I go on, it's not all bad. I've read articles from recovering gamblers that watching online gambling is therapeutic. Also, if someone enjoys watching a person bet big on slots and doesn't go blow their life savings themselves, then it's just entertainment.
But…
It's the latest move of content creators that's the problem IMO.
I had a long discussion with my youngest about this yesterday. A few years ago, online slots/online betting was a niche topic on Twitch. You basically had a handful of people doing this as their full-time job, only focusing on slots or online betting. If someone wanted to watch, they found an online betting streamer and watched.
Now this niche topic is going mainstream.
xQc, one of the top streamers in the world, became popular by streaming the games like Overwatch. Recently, xQc has been streaming slots on an ongoing basis since 2021.
Just this week xQc revealed that he has wagered $685 million dollars since he started gambling online. xQc is funded and sponsored (in the tens of millions) by Stake.com. Stake is also the official betting partner of the UFC (which is a head scratcher since most of UFC's audience is in the United States, but yet those people can't bet 😉).
This is the issue that concerns my youngest (and me). Of his 10 million plus followers, one-third are between the ages of 15 and 17. These are kids that initially came for the gaming and have now been introduced to online gambling.
This is going to be train wreck.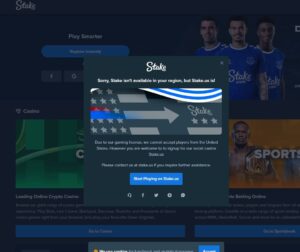 But you ask, how can kids (or anyone) in the United States gamble online when it's "mostly" illegal? For example, see the image above from me going to Stake.com. I can't even play.
I've learned it's pretty easy. Just go to a free VPN (virtual private network) site and a website (like Stake.com) doesn't know where you live. Then bet with cryptocurrency and you are on your way.
And it's just getting started.
For those who know me, I'm not against gambling. I love going to Vegas, and enjoy slots and blackjack. The first time I gambled was in my late 20s. I had a job and had "some" sense of what I was spending on this entertainment.
I'm not sure 15-year-olds do. I'm also not sure how to fix this issue as gambling regulations (specifically online betting) are relaxing around the world. It will soon be everywhere and easier than ever. Just look at Premier League Football. I think every team has an online betting partner.
I'd like to be positive about it, but my mind goes to the scene of "Biff's" in Back to the Future II.
How do we avoid it?
Ryan Reynolds Is a Marketing God
Do yourself a favor and watch this four-minute MNTN ad produced by Ryan Reynolds. It's hilarious.
Yes, it's an advertisement. I don't think I've ever watched a marketing demo all the way through until now. Enjoy!
NOTE: There is no "random thing" feature in today's newsletter. I decided to take the rest of the day off and go kayaking with my wife. Go spend some time with your family. Best, Joe