Money Is Changing
If you get a chance, it's worth listening to this 15-minute podcast from Nathanial Whittemore on the economic side of what's happening re: Russia/Ukraine.
A good part of me is for the multiple sanctions on Russia by both the US government and US-owned companies. Feels like the right thing to do. But it does put the idea of money in a new light.
At any time, for any reason, a government can tell a bank NOT to give you access to your money. They can stop you from getting or making a loan. They can change their policy at any moment and there is nothing you can do about it.
This moment in history shines a light on cryptocurrencies like Bitcoin. Permissionless, peer-to-peer, non-sovereign, portable, accessible and liquid.
As I'm writing this, President Biden just made an executive order calling on the US to take a closer look at crypto. It's not very specific, but Biden talks about the fact that the US needs to take the lead in this technological revolution, so the event is being looked at positively by most.
To me, this says that the US wants to regulate crypto but embrace it, and not block it like China has. This is great news for the citizens of the US.
More Cruising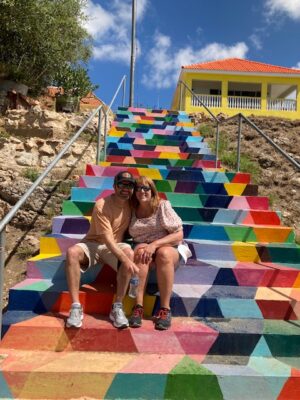 Well, the third time was the charm. After two cruise cancellations in the past 20 months, we were finally able to take our cruise to the Bahamas.
It was all aboard Holland America Cruise lines with one stop in the Bahamas, and then a stop in Aruba and Curacao (see picture).
My thoughts:
Holland America leans older and has very few kids, so if you are sans kids I would recommend it.
The cruise line was less than 50 percent full. From talking with the regular cruisers on board, this seems to be the case with most cruise lines right now. This is a BIG plus. At some moments it felt like we had the entire ship to ourselves.
Last minute deals are everywhere. If you're willing to chance it, you can call one or two days before a cruise leaves port and get on board for almost nothing.
Aruba grows cacti like grass in the United States.
The only extra you need to pay for on the cruise is the drink package 😊.
Silly YouTube Short
YouTube created YouTube Shorts to compete with TikTok. I was experimenting with creating one the other day and developed this stupid video. It's 13 seconds long.
Some people on the team think I should do more of these. Are they right or is this just plain silly? (NOTE: it made both my kids cringe…so maybe a success after all?)
A Few Thoughts About Being a Father
(I found this while cleaning out some of my folders. This piece was originally written exactly 20 years ago.)
Joshua just turned three months old – and it's been a wild and wonderful ride.
Being a father is more amazing than I could have ever imagined. It's the little things I cling to – watching Joshua hold tight to his mother after a feeding, observing a peaceful sleep, the way Joshua's brow creases when they recognize my voice. The list is endless. The most important impact on me is simple; I have grown up. Superficial aspects of life that used to seem so important are now replaced by a giggle, a yawn, or a simple turn of the head by my own flesh and blood.
I don't have anything paramount to discuss about fatherhood. All I have to share are my own humble observations about helping to bring a life into the world. They are in no particular order, and they are adjusted daily.
As a new father, I look on other parents with a whole new respect. Before Joshua was born, I remember analyzing the behavior of parents with newborns and how they handled certain situations. Now I've learned that a parent will do almost anything to get their kid to stop crying. God help us all.
I now have a whole new love for my wife. After watching her go through 17 hours of hard labor, she is my hero. Whenever my wife and I have disagreements, I think of my child and what a wonderful thing she did. Before Joshua was born, I worried that bringing a child into our relationship would dampen the love we shared. I was shocked to realize that our child made our love even stronger. God works in mysterious ways.
I am learning that there is no such thing as quality time, only quantity time. I cannot tell Joshua, "Okay, daddy has an hour just for you." When I work it that way, Joshua is usually sleeping. By spending as much time with them as possible, I don't have to worry about schedules – I just enjoy the ride.
I try to smile at my child as much as possible. Not only do infants first socialize through imitation, but they develop their self–concepts from their interactions with others. By smiling, Joshua knows they are loved.
I have a whole new wonder about our God. How did God sacrifice his Son for us? I don't think I could do that.
I have already accepted the fact that I will make thousands of mistakes being a parent. I resolve to learn from each experience, pray for wisdom, and love my child unconditionally.
Resources
Here's a fun conversation between Mike Stelzner and me on his Crypto Business Podcast talking about NFTs for access. This is very helpful if you have no idea what value NFTs hold or what they can be used for.
We just added the complete agenda for Creator Economy Expo here. Now over 30 amazing speakers.