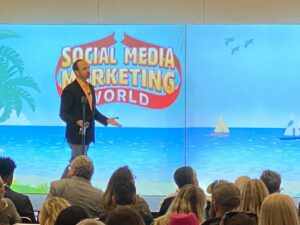 Returning to the Stage
Last week I spoke at Social Media Marketing World in San Diego (see image). It was my third speech since the pandemic started and my first in 2022.
I spoke about the opportunity in social tokens and NFTs (for marketers and content creators). Here's the PowerPoint if you'd like to see it.
I must tell you…it was wonderful being back on stage. We had a nice crowd of about 250 real people and they laughed at all my jokes.
After attending an event like SMMW, you remember how critical in-person events are to building relationships. Something that is very hard to do virtually.
Think about Your Audience
A few years back I met with a blogger in the knitting field. They had an amazing blog, focusing on the how-to of everything you'd need to know about the art and science behind knitting. Their email list had grown to an impressive 20,000 consumers, and the site was getting about 100,000 visitors a month.
Sounds like a success story, correct?
Actually, monetizing the effort was an ongoing problem. This creator of all things knitting had some amazing eBooks for sale, a few training courses, and many sponsors that supported the blog and email. But…all in all…the best the creator could ever do was drive some nice side hustle money, but never enough to be financially independent.
Now, it could be just a matter of needing more time…or maybe a more focused editorial target…but maybe, just maybe, the audience didn't have the kind of buying power needed to develop a successful content business.
Just look at how the creator economy has taken off. Heck, we launched Creator Economy Expo (May 2nd to 4th please join us…prices go up next week) because of all the new creators needing help in the space. Most of the creators I've been talking to, those that are struggling to create a real business model, are targeting consumers that have very little, if any, buying power.
Again, there is nothing wrong with this, it's just difficult.
Back 20 years ago I worked on a magazine and book project for Hewlett Packard. It was a very special ongoing educational project targeting, get this, 150 people. Those 150 people were corporate buyers of IT equipment at very large companies. They could easily commit an order to HP in the multiple millions. Now that's an incredibly valuable target audience.
Back when we started Content Marketing Institute, we made the decision to move from marketers at smaller companies to marketers at larger enterprises. It changed the entire equation of the business. We now needed less buyers who bought more, instead of more buyers who buy much less. Spending $1500 to go to a conference like Content Marketing World was nothing to a corporate marketing budget. At the same time, our sponsors wanted to reach those people because they could spend hundreds of thousands on their software or services.
Just think if Content Marketing World catered to smaller marketers. First, way more competition. Second, we'd have to lower the price of everything. Our sponsors would have been vastly different AND, maybe most of all, we'd have never sold the company at the premium we did.
Now I'm not saying you should change your audience if you are targeting consumers. I'm saying you need to look at the buying power of your audience – both in what they will buy and what companies want to target them.
Business customers with buying power always, in my humble opinion, make for better business models. This way, with whatever you end up selling, you can sell less at a higher price. At the same time, less competition in B2B is a real thing.
Let's go back to the knitting example. What if they targeted knitting manufacturers instead? Knitting supply companies? That audience wouldn't need to be 20,000 or 100,000 or 500,000. It may only need to be a handful of the right decision makers.
More is not always better. It's the who that matters. Spend some more time thinking about your who.
Apes Buy Punks
Just in case you haven't heard, Yuga Labs, the creator of Bored Ape Yacht Club (BAYC), acquired the IP rights to CryptoPunks and Meebits, developed by LarvaLabs.
This is huge news in the crypto space. BAYC is the most valuable NFT collection, just ahead of CryptoPunks. After the purchase, Yuga announced that all CryptoPunks and Meebits holders would get 100 percent of IP rights to their NFT (it's a long story, but the original rights were a bit murky at best).
Most Punk holders rejoiced at this, especially after seeing what Yuga did with BAYC. Me? I'm torn. If it's supposed to be decentralized, how can an entity come in and change the terms after the fact?
Something to think about. Expect the big companies like Disney and Sony to come in and purchase some of these NFT projects and build out the IP portfolio. It's going to get crazy.
Some Crazy Stats
What age group plays the most mobile games in the US and Canada? If you guessed 45+ you'd be right. Interesting report via MarketingCharts (h/t Mack Collier's excellent newsletter)
Did you know that 98 percent of content creators make less than federal minimum wage? (stat courtesy of GrandStage.com) We have such a long way to go.
According to GetResponse, the best performing email of ANY email someone will send is their welcome email – averaging 82 percent open rate.