Kids Staying at Home Longer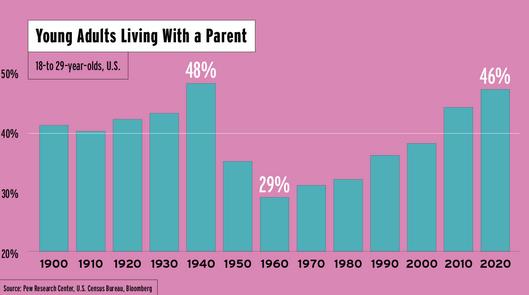 Recent Pew Research shows that almost half of all young adults ages 18 to 29 still live with their parents (see above chart). This trend has been rising every decade since the 1950s.
Professor Scott Galloway from NYU breaks down this chart in two minutes here. His rationale? Prof G believes our economy is broken, and that for the first time in US history 30-year-olds are not doing as well financially as their parents did at the same age. It's worth the two minutes to listen to his take.
The Great Resignation
First off, my wife never watches regular television. But she loves football. So, she was watching an NFL game on CBS that ended, and on came the show 60 Minutes right after. She ended up watching the entire program.
Apparently there was a piece about the Great Resignation that featured Karin Kimbrough, LinkedIn's chief economist (I didn't even know they had a position like that). There are some interesting stats in this show, but the one that caught my wife's eye was this one: Before the pandemic, one in 67 jobs were remote. Today, one is seven jobs are remote.
Name – Image – Likeness
Not sure if you've been paying attention, but the Name/Image/Likeness (NIL) rule that the NCAA passed last year is starting to go crazy nuts. Just in case you haven't been paying attention, NIL means that college athletes are now allowed to sell their name or image to companies. Basically these are sponsorship deals. Like it or not, it's here to stay.
Last week the Twittersphere went crazy when former Super Bowl Quarterback Charlie Batch offered Oklahoma quarterback Caleb Williams $1 million dollars to transfer to Eastern Michigan. Batch works with GameAbove Capital, which would be the sponsoring company.
My prediction for 2022 is that this is just the tip of the iceberg. It's going to be like the movie Johnny Be Good, except it will all be public.
NFTs Here to Stay?
You may have noticed that almost all cryptocurrencies have been down so far in 2022. Well, not NFTs (non-fungible tokens). Here's an NFT overview if you don't have a clue what I'm talking about.
In the last 30 days, 23 NFTs have sold for over $1 million dollars. In addition, people are starting to think about what the future of digital life (uh, the metaverse?) holds. Last month one collector paid $450,000 for a plot of digital land next to Snoop Dogg on Sandbox.
My thoughts? I believe they are here to stay, but that about 99 percent of NFT projects will go bust. So do your own homework before you invest in something.
CEX Early-Bird Pricing Ending
The $495 pricing to CEX – Creator Economy Expo ends next Friday (January 21, 2022). That rate is $500 off. I'd love to see you there on May 2, 2022 in beautiful Arizona. And bring your significant other. The Arizona Grand Resort is amazing.
We are featuring about 50 sessions on how to build an audience on the web, grow that audience, make money from that audience, and what opportunities work for content creators in a Web3 world
We are keeping the event small and mandatory vaccination to make it as safe as possible. Once we hit around 500 registrations we'll be done. We are about 20% of the way there.
We just announced our first round of speakers including Roberto Blake, Ann Handley, Jeremiah Owyang and many more.
$TILT Coin Rides Again
After a brief hiatus, our own $TILT coin returned to the #1 spot on Rally.io's list of creator coins. We now have over 1,500 coin holders and almost 1,000 people on our discord channel (come join us!). Not bad for nine months (we had a crypto baby!)
As part of Rally's rewards program, we've delivered (get this) over $350,000 in real paper dollars to $TILT coin holders. Many coin holders used these rewards to buy holiday presents and pay off some outstanding bills. Truly amazing. BTW, if you sign up to our email newsletter at The Tilt and finish the signup process, you get $5 in $TILT coin the following Friday.