Staying Focused
I normally have an orange notebook by my side. On one page, is a list of ideas for the future.
Often times I want to start on any one of them…or even a few.
And then I think of Jeff Bezos and Amazon.
Amazon sold books in 1995. Only books.
For three years, that's all they sold.
They became great at it.
Then they started selling other things.
Today, they sell everything.
We often forget early Amazon and how focused they were.
Book Recommendation
I'm a big Andy Weir fan. You may remember his amazing book (and subsequent movie starting Matt Damon) The Martian. We had him speak at one of our events as well. Great guy!
My friend Marc recommended Weir's new book called Project Hail Mary.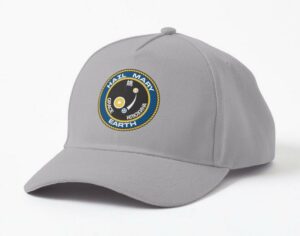 I was hooked immediately and couldn't put it down. If you like science fiction, it's perfecto.
Techniques for Writing Sales Emails
Over the last month I've been selling sponsorships for Creator Economy Expo. I haven't sold full-time like this since the first Content Marketing World in 2011. To be honest, it's taken me a while to dust the rust off.
Here's a little before and after email writing, with some results to show the difference.
Here was my first email try:
——
Hi FNAME,
Wanted to make sure you were aware of our event, CEX – Creator Economy Expo. This is an exclusive event for 500+ content creators at the Arizona Grand Resort in Phoenix (May 2-4, 2022).
Brian Clark (Copyblogger) and I founded this event because we believe there is a real gap in the event space for true content entrepreneurs…those full-time creators trying to build a substantial business.
Our attendees are experienced entrepreneurs and content creators who spend, on average, $10k per year on technology solutions to run their content businesses.
Companies already sponsoring CEX include Hubspot, Rally.io and MarketMuse. We are limiting sponsors to just a few dozen this year (for obvious reasons).
We just announced our first round of amazing speakers, including Roberto Blake, Ann Handley, Jeremiah Owyang, Jordan Harbinger, Kaleigh Moore, Wally Koval (Accidentally Wes Anderson) … all some of the most amazing content entrepreneurs in the world.
I'd love to get you involved in some way. Here is our prospectus just to see what we are offering, but I'd love to create something that helps you grow your business and help our attendees at the same time.
Five minutes to chat about it?
Best, Joe
——
So, what do you think? I bet you didn't even read the whole thing. I wouldn't either.
Well, it really doesn't matter because I got absolutely NO response. Of course, I should have known better. Frankly, it's too long. And they really don't care about why Brian and I founded the event.
They care about themselves and their own needs. How quickly I forget.
I modified this a few times and finally came up with this version.
——
Hi FNAME…We have a new IRL creator economy event, called CEX: Creator Economy Expo. 500+ creators that could use your services. I believe there is a fit here. Would love to chat with you for less than 10 minutes about it if possible.
Or…if interested…I can email you a few ideas.
Check it out here —> https://cex.events/ – May 2-4, 2022 (Arizona Grand Resort)
——
BINGO.
This one is hitting at about a 25 percent clip. Some want a phone call, some want emails.
Why did it work?
First, it's short. 65 words versus 195 words.
Second, I quickly answer what the event is in the first line.
Third, I make it about them, saying that my audience wants their services. Every person I'm reaching out to has a sales goal.
Fourth, I won't waste time. 10 minutes maximum. Everyone has 10 minutes, especially if it will help with their jobs and lives in some way. Seems reasonable, right?
SEO: What You Need to Know
Do you want to get found in search engines but don't quite understand what it takes?
Well worry no more.
Alberto from our Tilt discord group shared this amazing resource covering everything you need to know about On-Page SEO.