It's been a crazy couple of weeks getting ready for Creator Economy Expo. My days tend to look like this:
Monday: Why did you start another event?
Tuesday: Starting an event was an amazing idea. You are brilliant Joe.
Wednesday: You are an idiot.
Thursday: I need ice cream. Or beer. Let's do both.
Friday: What is that look my wife is giving me?
Seriously, it's all coming together, but I actually thought going through the event process the second time was going to be easier. It isn't. The good news is that the event will be amazing (I really believe that) and I'm super excited about CEX (pronounced C-E-X…get your mind out of the gutter).
I'll also be happy on Thursday, May 5th when it's over.
What I'm…
I was on a podcast recently that asked me what I'm reading, watching or listening to (aka podcasts). I get questions like this a lot so I thought I'd share these answers with you. I'd love to hear your recommendations. Just reply to this email and let me know.
What I'm reading…
I read both Gentleman in Moscow and the newer The Lincoln Highway by Amor Towles. Towles' writing is breathtaking. After reading just a few lines from Gentleman in Moscow I realized how much work I have to do as an author.
Both books are remarkable works, but I still think about many parts of Gentleman. It's an impactful book. It's also very long, so be prepared.
Andy Weir's (from The Martian fame) new book Project Hail Mary was one of the best science fiction books I've ever read. Highly recommend.
I spent two months reading the entire Matthew Corbett series from Robert McCammon. I'm still sad that I ran out of books to read, but fortunately there is a new one coming out soon. It's a mystery/thriller series that takes place in and around New York City in the late 1600s/early 1700s. Once you read the first, you'll be hooked.
Here's my Goodreads list if you'd like to follow me.
What I'm watching…
The Tender Bar starring Ben Affleck is a new Amazon Prime drama about a young writer growing up without a father in Long Island. Ben Affleck plays the supporting uncle to Tye Sheridan's character (from Ready Player One fame).
This is not the perfect movie but I loved it none-the-less. If you are a writer, you'll definitely feel something toward the end of this movie.
The Hero starring Sam Elliott is like a western non-western drama (I know that doesn't make sense). Mostly, it's about dealing with aging and still feeling valuable to society. This is not a feel-good movie, but it really made me ponder some things about life, especially as our extended family is dealing with several health issues.
What I'm listening to…
I listen to almost every Breakdown with NLW podcast on the news of Bitcoin and macroeconomics.
My favorite podcast is the Prof G (Scott Galloway) podcast, which covers tech, finance and even dives into family and personal issues. The latest podcast with guest Noam Bardin, the former CEO of Waze, was so powerful I forwarded it to my youngest child. It seems I always get something business related out of it, but more importantly I receive something of value about being a father.
I finished compiling the music playlist for Creator Economy Expo. Here it is (via Apple) if you'd like to share in my compilation. You'll see my taste is odd, but hopefully uplifting. I have something from almost every decade. I told our event manager for CEX that it's the greatest playlist that has ever been created. You be the judge.
Did You Know?
I believe the US highway system is one of our modern miracles, but did you know that there is a numbering system? Of course, you know that the major interstates that run North/South are odd numbered, and those that run East/West are even numbered. But, there's more.
There is actually a number-ordering system. For example, Highway 5 starts in California. Then each additional interstate adds 10 until you get to Highway 95 on the East coast. Highway 10 runs from Florida to California, which is the furthest southern highway, while highway 90 is the furthest North (this one runs right by my house in Cleveland).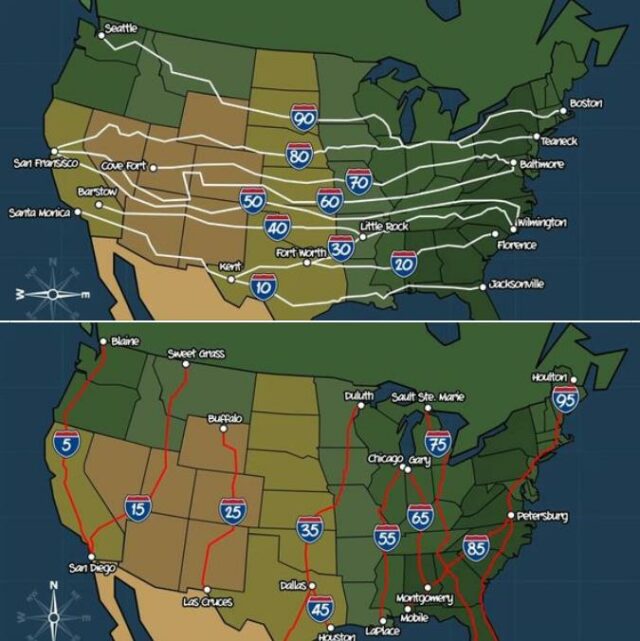 See the image above. Mind blowing, right?
Here's more on the US highway system if you'd like to read up on it.
Tech News
Netflix lost subscribers for the first time (200,000 subs) and expects to lose 2 million more. Why you ask? Simple. Competition. Who doesn't have a streaming service these days? Here comes the great streaming consolidation.
TikTok tripled its revenue to $11 billion and now generates more sales than Snap and Twitter combined. They've created the best mousetrap for attention. Messages and forwards from my friends that used to come from Facebook, Twitter or Instagram now come almost exclusively from TikTok. Amazing.
Here's a great interview from They Got Acquired on how Sam Parr sold The Hustle to Hubspot for eight figures.
In our latest This Old Marketing podcast, Robert and I cover why CNN + is really CNN minus. Uh oh.