I'm reading The Power of Regret from Dan Pink (I'm doing my homework as he is keynoting Creator Economy Expo).
It's fascinating to think we can harness something like regret, which has generally (to me) seemed like such a negative thing. How many people say no regrets? This book is making me question some things.
I'm wondering, can we anticipate regret?
Can we walk into a situation and visualize what our actions should be in order to stave off regret? Or is it more about our actions after the feeling of regret occurs? What do you think?
I'm going to work on this.
Dan also tells a powerful story about Edith Piaf and her amazing song Non, Je Ne Regrette Rien. Worth the price of admission right there. I've listened to that song four times since reading the book. And, you know the song even though you may not recognize the name.
Regret is not supposed to make us feel worse, but to motivate us to create our best selves today and tomorrow.
The Music of Encanto
One of my strange quirks is watching animated musicals. When Moana came out I watched that movie three times and then downloaded the soundtrack, listening to it non-stop for a month. I'm lucky my wife didn't kick me out of the house.
My first exposure to Disney's Encanto was the song We Don't Talk about Bruno written by my man crush Lin-Manuel Miranda. I thought, "what, an entire movie of songs written by Miranda?"
So…while my wife was out of the house, I indulged.
I loved it. Watched it once straight through and then went back through and listened/watched all the songs again. Then, I found the documentary (on Disney+) about the music behind the movie. How exciting!
While watching I was reminded of Adam Alter's concept of recombination.
The idea is that finding originality today is nearly impossible. In his research with musicians and other artists, Alter states that all the building blocks around creating art have already been developed. So, today's creator must recombine already developed elements into something that seems original.
Miranda's work on Encanto  is the epitome of recombination as he takes influences from Columbian, Puerto Rican, and Latin culture to mash songs together.
I've worked with several content entrepreneurs on this concept: take two content themes and mash them up to create something new. We did this with content + marketing and are now doing it at The Tilt with content + entrepreneurship.
Something Interesting with NFTs
You heard the "overpriced JPEG" commentary quite a bit with NFTs (non-fungible tokens). Well, try this on for size.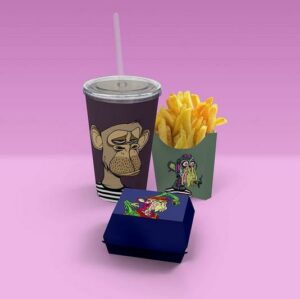 A successful restaurant operator, after buying a few NFTs from the Bored Ape Yacht Club collection, is using his Bored Ape to create a pop-up restaurant. That's right, he's using the unlimited rights/IP that comes with ownership and developing a new eating concept called "Bored & Hungry."
According to the owner, "The reason I did this was to make a statement to the public, letting them know that this jpeg … could be utilized to turn into a brand and ecosystem for the restaurant world."
The BAYC restaurant launches on April 9th and all the branding and uniforms will be based on the NFT artwork.
And this is just phase one. Can you imagine what's in store for the future?
You Won't Know Web3 When You See It
Having trouble getting your arms around Web3?
Well, check out this article that makes it simple(r).
Just think about a vending machine.
In a vending machine, the rules of a transaction are programmed into the machine. You select a product by pressing a number related to the product that you want. You insert money. If you insert enough money, the machine spits out the product. Programmed rules execute a transaction.
Smart contracts act similarly, and they're foundational to Web3. By building rules directly into code, smart contracts remove the need for intermediaries to facilitate transactions. Vending machines allow you to get snacks without a merchant present; smart contracts allow you to do all sorts of things without a banker, accountant, lawyer, or other intermediary present.
This week's Sunday Morning Brew covered this as well.
Computers came along with the idea that machines could follow human instructions. And then the internet gave it this new capability: Two machines could now exchange information between each other, they could talk to each other.
Web3 is giving a new building block: Now, machines can transact—meaning they can have commerce, they can send money to and from each other. And I know there's some confusion here because we have PayPal and Venmo, but, without going into technical details, that's not really being able to transact. That's just an application built on there. Now, you can take money and put it into code, which was never possible before.
In summary, Web3 enables us to code transactions that happen without a middle entity (like a bank) making sure they happen. For example, if you buy a CEX Never-Ending Ticket and then resell it on, say, OpenSea, I automatically get a five percent resale fee without ANY additional work.
It's glorious.
What I'm Doing Right Now
If you'd like to support what I'm doing, here's some highlights.
Creator Economy Expo (CEX) – May 2-4 in Phoenix. If you'd like to attend but can't swing the money, respond to this email and I'll do my best to help.
The Tilt Newsletter – 2x per week email helping turn content creators into content entrepreneurs. If you create content, you must subscribe.
100 Hole Marathon – Coming up May 16th. I need $400 more in donations to make my minimum this year.
Orange Effect Foundation Golf for Autism – August 1, 2022. Please join us this year at Elyria Country Club for a celebration of speech therapy (and golf).
Content Inc. Podcast – Five minutes of content motivation every Monday morning. Please subscribe. Over 300 episodes.
This Old Marketing Podcast with Robert Rose – In my humble opinion, a must listen for anyone in marketing. We cover the news of the week.