Where Am I?
It's been a crazy travel week for the Pulizzi's.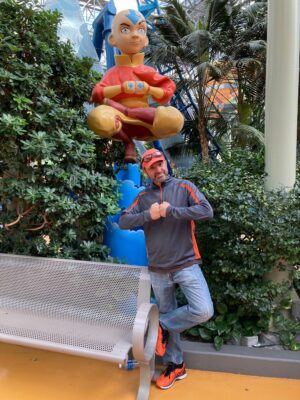 As you know from my last newsletter, we attended Jim McDermott's funeral and life celebration last week in North Carolina. On Saturday we headed to Minneapolis to meet some close friends at Valleyfair amusement park. Our oldest (a huge roller coaster fan) met us there from Erie, PA. We even had time to hit the Mall of America, where we found another five roller coasters to add to the oldest's running list of coasters. While there, I found my favorite ride (see picture above). I'm a HUGE Avatar fan. Not Avatar the movie coming out again … Avatar: The Last Airbender. Best animated series ever created in my opinion (and worst movie ever made).
The next day we left on the first flight out to Atlanta to see our first Cleveland Browns away game in person (EVER). It was pretty amazing. After arriving in Atlanta, we took the MARTA (their subway) to Mercedes-Benz Stadium where the Falcons play. Armed with backpacks and suitcases, we found our way from the subway to a huge parking lot by the stadium where thousands of Browns fans were tailgating. In the middle of the chaos, we found our friends, who quickly handed us a beer and an amazing plate of pulled pork.
The stadium was, how should I say this, perfect. Not a bad seat in the house. The weather was incredible, but if for some reason it wasn't, the retractable roof closes in less than 20 minutes. Even the domestic beers were only $8 dollars. They may sound like a lot, but they are $11 at Browns stadium. After seeing a football game in a stadium like that, I have hope that the Browns could do this someday as well.
Our day was almost ruined by the Browns loss. So…we drowned our sorrows back in the parking lot for some post tailgating.
With no time to waste, we hopped on the 8pm flight to New Orleans where I present this week at a conference called Digital Now for Association Executives. My topic is on unconventional publishing strategies. Exciting, right?
After a quick stop in Cleveland, Pam and I will get on a plane immediately after the Browns/San Diego Chargers game on Sunday to go (get this) to San Diego for the Crypto Business Conference. If you are planning on going, please reply to this email so we can get together. I'll be speaking on the Social Token Business Model.
Content Creator Opportunities
For my presentation at Digital Now, my thesis is that content creators (of all types) need to be more aggressive with their publishing strategies. Basically, we need to be taking more risks. Calculated risks. Here are my key points.
Big M&A to come. Larger companies need to be researching content creators and media companies to buy. Problem is that most content marketers don't understand the process of acquiring content and media companies. They also don't know how to find money internally to fund these buys. I believe understanding the acquisition process is the most important skill to know for content marketers in the next two-to-three years.
For small creators, there has never been a better time to sell (if you are looking to sell), but also, even small companies should be looking into buying small content sites and email lists relevant to their content mission. I believe not looking into these opportunities is a missed opportunity.
More Revenue Levers. Content marketers and creators need to be driving more different kinds of revenue. If you are a content marketer and you measure your success in, say, one way…lead generation or social mentions…you've got a problem. You need to investigate driving direct revenue, such as sponsorships or training or events. A content marketing department that breaks even versus costs, or becomes profitable, will never be cut.
Email focus. With social networks changing their algorithms and caring nothing about their user base, email is more king than ever before. If you bet big on social networks, be sure you have a conversion process to an email offer.
Less is more. I'm making a case that you don't need to be everywhere your customers are at online. I think you should only be in places where you are publishing valuable, helpful and consistent content…and building an audience or community. Focus on a couple core platforms and get rid of everything else.
Leasing space. Instead of launching a "new" thing…a new blog or new podcast, I believe a better strategy is to launch on someone else's property first. For example, instead of launching a new podcast altogether, Daren Smith partnered with my Content Inc. podcast to launch his new podcast. The result? Three quick sponsors and thousands of immediate downloads. The origin story is here if you want to see the journey.
Here's the full presentation if you'd like to see it.
Big Album Release
Some of you may know this, but my brother Tony Pulizzi has a new album coming out in November. He's kicking it off with a concert in Los Angeles on November 4th. You can check out all the details here.
This is Tony's first album in a long time. Why you ask? Well, for most of his career, Tony has played guitar for some amazing artists and organizations. He was lead guitar the first few seasons of American Idol. Then he went on the road as Natalie Cole's lead guitarist until her untimely passing. Today, he's doing Dancing with the Stars (among other things).
If you like jazz/funk music (with a little pop thrown in), you'll love his music.
Two Announcements
First, my new podcast with Daren Smith, The 10k Creator Podcast, is now live. You can listen/watch the first two episodes here. The 10k Creator will be 10 episodes where we go through the journey of a content creator getting to 10,000 email subscribers and $10,000 in revenue per month. We are getting some great reviews, so thanks for the support.
Second, call for speakers for Creator Economy Expo (in Cleveland, Ohio May 1-3, 2023) ends October 15th. If you want to speak or nominate someone, please complete this form (deadline for submission: October 15, 2022)
Reflections from the Road
As I'm sitting in my hotel room typing this up, I was trying to think about how I could deliver you some real value this week. I know most of you aren't traveling quite yet, or maybe not as crazy as what we are doing, so I thought I'd start there.
In no particular order, here are some of the things I've noticed while on the road, either through personal experience or by talking to more than a few people.
The staffing shortage is a thing. Literally everywhere we've gone to eat, every jetway visited and every store perused…each one is light service people. That said, most customers are patient and understanding. But everything takes longer.
Staff training is a problem. Due to the shortage, some people are rushing people into roles when they need more (let's say) seasoning. I literally rented a car last week where they had no record of me taking the car. Someone didn't scan the right things when we checked out. I was nice and returned the car, but I'm pretty sure I could have just kept it.
Food shortages. Restaurants are not serving full menus, generally because they don't have their regular food items. Starbucks is an interesting case study. We've been to five different Starbucks around the country and each one only had a couple food options. They "show" ALL the food options, but if you squint real hard, you'll see that most say "unavailable" or "sold out."
Leisure travel is up. Hotels next to consumer attractions are full. People are traveling to amusement parks, college and pro football games, and special consumer events in droves. It's truly post-covid and people are flying around like it's 2019. Every plane we've been on has been packed…mostly with leisure travelers.
Oh…and if you are wondering, about five percent use masks on planes now.
Business travel is down. In New Orleans we are staying in a Hyatt Regency downtown. It's in the business area. VERY business-travel oriented. We found out that Sunday's occupancy was nine percent. That's 9. Unbelievable. On Monday it was 24 percent. Workers said they expect a high of 40 percent with two small conferences at the hotel this week. I don't think this is a coincidence. Business travelers are becoming choosier on when and why they want to travel. At the same time, business travel budgets have not come back. I'm not sure when they will. Business travel just isn't a necessity anymore. The good news is that I had the hotel gym to myself for a whole hour.