Love Is a Verb
quick note…thank you to all that donated to my Orange Effect Foundation page two weeks ago. I'm already halfway to my goal because of you wonderful people.
Valentine's Day is next week. I think of two things on that day.
First, it's the day I proposed to the love of my life. I took her out to dinner and had this idea to propose, down on one knee, in the park after we ate.
The problem? It was 10 degrees out and snow was everywhere. That, and I couldn't find a park. She probably thought I was an idiot looking around for someplace to stop.
Anyway, I found something that seemed like a park (there was a bench that wasn't entirely covered with snow) and she said yes.
Oh, and I agonized over the ring. It took me 21 months to pay off that thing. I bought it at a jewelry store that no longer exists inside a mall that no longer exists. Worth every penny.
As I type this I can hear my kids saying "boomer."
Second, I think of both helping others and being open to receiving help.
For many, we think of Valentine's day and the resulting feeling of love. Sure, love is a strong feeling, but true love is action oriented.
Unfortunately my wife and I have been to too many funerals in the past few months. I hear the same issues at every funeral no matter the age or cause of death.
"I didn't reach out enough."
"I didn't see them enough."
"I didn't do enough."
Regret can be a terrible thing. It can also be an amazing motivator.
So on or before Valentine's Day, make a list of 10 people in your life that you love. Then, take a small action. Nothing earth shattering.
Mail a short note.
Shovel their walkway.
Deliver a gift card to their favorite restaurant or coffee place. Promise to go together.
Text them hi.
Share your favorite book.
Small things like this change stars for people. So, no regrets…just lots of do's next week.
Good, but the other side is true as well. We have to learn to ask for help.
I don't know about you, but I used to be one of those people that had to do everything on my own. Stubborn, some would say.
Then, out of sheer desperation, I started asking for help.
Personal life, yes. We have three couples in our life that are our best friends. I ask them for help all the time. They ask me for help. It's beautiful when we all help each other.
For business?
This just occurred to me. When people ask me what the key to my business success is, I generally say something like patience or grit. Not true.
It's the ability to ask for help.
We started a content marketing survey back in 2008/2009. That research project put our business on the map. None of it would have happened without Ann Handley's support.
Content Marketing World seemed like a Hail Mary in 2010. I asked A LOT of people for help that year. So many come through, showing up when they had no call to do so. Marcus Sheridan, Andrew Davis, David Meerman Scott, Sally Hogshead, Jay Baer and about a hundred others made that show happen. Why? Well, I asked them for help. They were kind enough to do just that.
CMI (back in the day) ran on fumes. So many on our original team made sacrifices I can't even fathom. Why? Well, I asked them for help. They said yes.
The same continues today. The Tilt started because I asked a small group of people for help. Our upcoming event, Creator Economy Expo, started and is continuing in the same way. Big-name speakers from all over the country are making sacrifices and showing up…because we asked.
So, for Valentine's Day, make love an action. But also start integrating asking for help into your daily life. To be human, we need to give and receive. It has to be both. Love, the action word, requires both.
A Quick Word on NFTs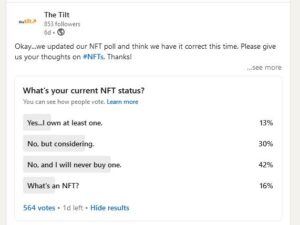 Last week The Tilt did a survey on NFTs. Over 500 marketers and content creators completed the survey. Here are the results.
What's your current NFT Status?
Yes…I own at least one – 13 percent.
No, but considering – 30 percent.
No, and I will never buy one – 42 percent.
What's an NFT? – 16 percent.
Couple things to take away from this.
First, we are VERY early days here. Could be an amazing opportunity for those in early with real ideas. Yes, many of these early NFT projects will fail, just like many early web projects failed in the late '90s. But there was also Amazon and eBay.
Second, while NFTs can just be digital art, they are really smart contracts backed with blockchain technology. This means that, ultimately, NFTs can do just about anything. Think ticketing, insurance, healthcare records, etc. And yes, digital real estate as well (which is going to be huge). My prediction is that in 20 years digital real estate will be valued at more than regular real estate (this is not financial advice).
Of course, I could be wrong. But my advice to you is to be curious. Start doing some research. Here's a good group of articles to read up on that are introductory in nature.
Personally, I didn't have a clue about NFTs until I purchased one. Practice a little with an NFT or two where you can afford to lose the money. It will pay off in the long run.