I had a dream last night.
My wife and I were at a Lizzo concert. We had good seats – front row, left side. As Lizzo came out for her finale, she played one song (About Damn Time). Before the next song, she walked over to me and asked me if I wanted to be a part of the show.
I said "heck yes" of course.
She took my hand and led me over to a batting cage of some sort, where celebrity figures started to throw objects at me. If I caught them without hitting the ground, I received a point. I remember President Clinton and President Bush throwing at me. Clinton tried to throw a curve ball. Bush kept dancing around.
The board and the announcer said I caught seven, but I only remember catching three.
Then I woke up.
Someone tell me what this means please.
The FTX Mess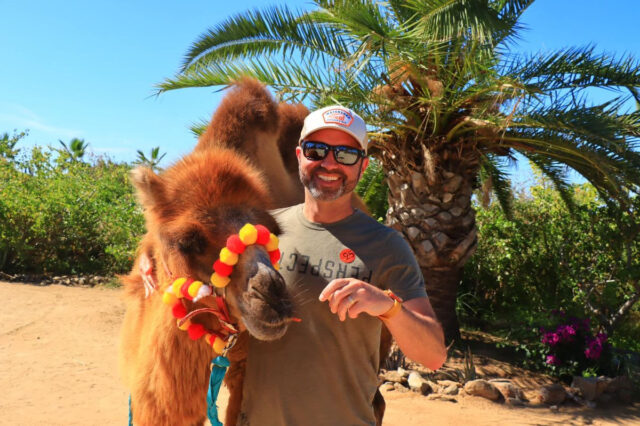 Last week my wife and I went on a cruise to Mexico where we stopped in Puerto Vallarta, Cabo San Lucas and Ensenada. We rode camels (see picture above), went to a cheese cellar and drank all the drinks. It was one of the few vacations we've taken, just the two of us, since our honeymoon. It was everything I dreamed it would be.
During this blissful week, I saw the headlines regarding the fallout at cryptocurrency exchange FTX. You can read all the up-to-date details here. The tl;dr is that FTX collapsed like Lehman Brothers did in 2008. In just a few days FTX went from crypto-leader to bankrupt. From $32 billion in value to nothing.
I feel so bad for all those people who lost money. And, it's not over yet. There were so many major players who had invested in FTX, we have only seen the start of this wave. Bitcoin and Ethereum have both been hit hard, down over 20 percent in just days. Many firms, like Genesis, have halted withdrawals. Scary times.
Some takeaways:
If you bought Bitcoin or other tokens on an exchange like FTX or Coinbase, move access to your coins from the exchange to something you can control, like a Ledger cold wallet (here's some instructions). I've moved most of my crypto holdings and our more valuable NFTs to my Ledger (a Ledger looks like a USB where you can hold your private keys offline).
Good or bad, regulations are coming. They are needed. I hope they keep the spirit of capitalism alive when they happen.
I've been into crypto since 2016 and this is as bad as I've seen it. To make a comparison to the financial fallout from 2008 is not overstated. That said, I'm still bullish on Bitcoin and ETH and certain NFTs with a solid use case or collectability. I still believe in tokenization as a business model. We need to remind ourselves how early we are with this technology. I call it the "alta vista" period of crypto.
All in all, I feel we have more downward pressure to go, but long-term my thoughts haven't changed.
My Current Projects of Interest
I wrote an article about the present and future of the creator economy on Hubspot. Take a read here.
Tomorrow is the last day for the lowest possible price ($495) at Creator Economy Expo (May 1-3, 2023 in Cleveland, Ohio). I hope you join me. I'm finishing up the agenda and it is amazing for both beginners and advanced creators. Check out the agenda here and register here.
The site Discourse (they buy and sell businesses) asked me to write an article about how an entrepreneur who sells and receives a windfall should invest their money. Here's the article.
My 10k Creator Podcast series with Daren Smith (from Craftsman Creative) has been amazingly successful. We are currently on episode eight (of 10). The show is about how a content creator can get to 10,000 subscribers and $10,000 in revenue per month. You can listen to and watch all the episodes here. We've had amazing guests the last three episodes: Jay Clouse (Creator Science), Daphne Gomez (Teacher Career Coach) and Lexi Grant (They Got Acquired).
The Gambling You've Never Heard Of
My friend Stephen Davis sends me interesting articles and videos almost every week. Many of these Robert Rose and I feature on our This Old Marketing podcast.
Last week Stephen sent me this video about Valve's gambling problem. Valve is the company behind Steam, an online game distribution platform with 120 million active users per month and 50,000 games. If you have teenagers, they are most likely using it.
The video uncovers the teen gambling problem that is not only happening, but growing on games such as CS:GO (36 million players last month). On this game, you can buy what's called skins, which are weapon and wearable accessories for the player.
I knew all that. But what I didn't know is that many users gamble their skins to get more valuable skins. You have to watch the video to believe it. According to the program, billions are being wagered on CS:GO alone, almost exclusively by teenagers 13-18. This type of activity is causing long-term damage to children and making them prone to more serious gambling issues in the future.
The more I find out about online gambling (see this newsletter issue) and the incredible growth of the sports betting industry, I'm inclined to think that gambling may be one of our society's biggest hurdles in the next decade.
Anyway, if you are like me who has bought multiple Steam cards for your kids, this is something to be very aware of.
What Would You Like to Hear About?
Next edition of The Random is my 100th newsletter. Always a special number. What would you like to hear about? Please reply to this email and let me know. I'll make it a special read for everyone.
Thanks so much for reading. It is SO much appreciated.