From Last Newsletter
In the last issue of The Random, I talked about the "Be Curious, Not Judgmental" signage around Erie, PA. Well, a big thanks goes to my friend John Chacona who advised me that those properties are owned by Rick Griffith Commercial Real Estate Properties.
Thank you John for the tip and thank you Mr. Griffith for keeping Erie, PA free of judgmental people.
See, the Internet can be used for good after all.
Announcing Next Week
On September 12th we will be announcing the date and location for Creator Economy Expo (CEX) 2023. It's all very exciting. If you want to know before this next newsletter comes out, just subscribe over at TheTilt.com.
The Downside of a Personal Brand
Last week I posted this commentary at LinkedIn (you can see the original post here, which has over 50 comments now). Take a read and let me know what you think: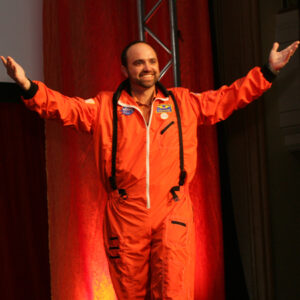 I was having a discussion with a marketer about acquiring content creators.
This marketer has been thinking about developing a real acquisition strategy and is deciding to go after small, independent content creators.
I thought this made sense, both with the rise of content creators literally everywhere and the fact, at least according to The Tilt research, that about 20 percent are actively thinking about selling their content businesses.
We first talked about what they were thinking about buying. Most of the creators either had a podcast or an email newsletter. Those creators with Instagram or TikTok as their main home were pretty much dismissed. I mean, you can't buy their social media channels (they don't own those), but you can buy a podcast feed of listeners and an email list.
The second, and maybe more important issue we were discussing, was the idea of a content brand. Any creator that had a content brand that was the name of the creator were summarily dismissed.
Think about that for a second.
Not even considered.
The learnings from my meeting are this.
First, you need actual assets to sell. Podcast brands with regular downloads, a website with SEO-indexed content, or an email newsletter with subscribers. Those can all be purchased by a media company or brand whether you have revenue or not.
Second, set your expectations if YOU are the content brand. Don't get me wrong…there are a lot of advantages to everything being about you. Probably get better opportunities at book deals and speaking appearances…maybe sponsorships…but if you are trying to sell the asset someday, that is one situation where your name simply doesn't help.
What do you all think? Is this right?
Pickleball Anyone?
I first heard about Pickleball on an international phone call in 2018. The person on the call told me about this game that was sweeping through Europe. He also said it was picking up steam throughout the United States.
"Pickle-what?" I said.
After that moment, I started seeing Pickleball courts everywhere, or the "court within a tennis court" at some parks in the area. Today there are more than 38,000 indoor and outdoor courts in the United States. Wow…did that happen fast or what?
It's four years later and I still haven't played yet, although I've watched my friends play a few times. I'm intrigued.
Last week I received this article about how good Pickleball is for you health wise and my friend, Carl Landau, just published a book on the topic called "Pickleball for Dummies" (you can pre-order the book here…just in time for holiday giving). NOTE: Carl also named his entire company Pickleball Media, so you can probably imagine how much he loves the sport.
I'll have to make the leap to play very soon. Feels like a lot of pressure.
Writing Your Obituary
I was asked to write an obituary for a family member. Now I've written just about every kind of story before, from poems to essays to novels, but I've never penned an obituary before. To be honest, it feels like a lot of pressure. It's important and I don't want to mess it up.
As I started doing research on what makes a good obituary, I realized how bad most of them are. Maybe "bad" is not the word. Boring?
Most obituaries just state facts like where they were born, who is in the family, what they did for a living and where the funeral arrangements will take place. I guess all of that is fine, but it needs to be more.
Here's a person who obviously has made an impact on the lives of many other people. That needs to be included. I think, by the end of the obituary, you want to reader to say, "wow, I would have liked to meet that person."
As I'm going through this process, here's my advice:
First, get the facts down. You'll need the birth date, location, parents and all the loved ones you need to mention. Regardless of who might complain, I don't believe you need to list EVERYONE. Just the key folks. I think listing grandchildren are a stretch.
Second, you need to gather key moments. Contact four or five key people in the person's life and ask them what they remember most about the person. Most likely you'll pick up on some themes.
For me, I tried to think of how the person truly made an impact on other people. Of course, this would include what the person would be proud of, but mostly about the small things they did that people didn't know about. When writing this thing I needed to remind myself that an obituary is like a wedding…it's really for the people attending…or in this case, it's about the reader.
Third, tell one or two stories. This is not a book report. Make it real.
I'm close to being done, but my biggest takeaway is to write my own obituary and to keep it with the rest of my estate planning documents.