Moving from Mailchimp
Not sure exactly when, but this newsletter will be moving from Mailchimp to a new email provider in the next few months. Why you ask?
It seems Mailchimp (owned by financial-services provider Intuit) has a problem with cryptocurrency. A few weeks ago, Mailchimp suspended a group of crypto newsletters without warning. Professional publishers like Decrypt were completely shut out of their accounts.
The company's Acceptable Use Policy states that "Cryptocurrencies, virtual currencies, and any digital assets related to an Initial Coin Offering…we do not allow businesses that offer these types of services, products, or content."
I understand the uneasiness of companies like Mailchimp (and also Constant Contact) when it comes to crypto. There are indeed a good handful of scams out there. But there are also some amazing content products that serve wonderful communities (like us here at the Random). They are a private company and can serve whoever they want, but I'm horrified by the way they handled it (no warning or communication).
I'm assuming this newsletter has not been blocked because we are simply not big enough (we have 10,000 subscribers). But since I'm actively involved in my own cryptocurrency ($TILT coin), I figure it's only a matter of time before they'll shut us down.
So please be patient with me as I figure this thing out.
Be Curious, Not Judgmental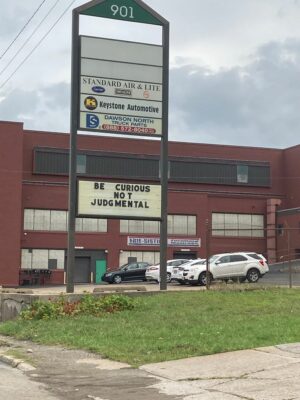 This phrase (misattributed to Walt Whitman) was made popular recently in a Ted Lasso episode (here's the exact scene…one of my favorite parts of the AppleTV+ series).
Well, while driving our oldest back to Mercyhurst University in Erie, Pennsylvania this week we saw multiple sightings of this phrase throughout the city (see picture above). A quick search online netted me absolutely no intelligence about who is behind this.
It seems a group of Erie, PA small business owners have joined forces, uniting in this public showing of "be curious, not judgmental."
If anyone knows the background information on this, please let me know ASAP.
And…here's the copy from the Ted Lasso episode where it's referenced.
Worth the read.
Guys have underestimated me my entire life and for years I never understood why – it used to really bother me. Then one day I was driving my little boy to school, and I saw a quote by Walt Whitman, it was painted on the wall there and it said, 'Be curious, not judgmental.' I like that." (Ted throws a dart.)
So, I get back in my car and I'm driving to work and all of a sudden it hits me – all them fellas that used to belittle me, not a single one of them was curious. You know, they thought they had everything all figured out, so they judged everything, and they judged everyone. And I realized that their underestimating me – who I was had nothing to do with it. Because if they were curious, they would've asked questions. Questions like, 'Have you played a lot of darts, Ted?'" (Ted throws another dart.)
To which I would have answered, 'Yes sir. Every Sunday afternoon at a sports bar with my father from age ten until I was 16 when he passed away.' Barbecue sauce." (Ted throws a double bullseye to win the game.)
Woodstock 1999
My friend JK asked me to watch the Woodstock 1999 Netflix documentary Trainwreck (here's the trailer). I don't usually watch anything with multiple episodes (well, except Ted Lasso), but I considered the three episodes to this documentary like a longer movie. I can literally rationalize anything.
It's been days and this documentary still disturbs me (btw, it's NSFW).
If you're not familiar, the organizers of the Woodstock event in 1969 put on the 1999 event, hoping for the same kind of love and peace spirit. Not sure what they were thinking by bringing out acts like Limp Bizkit, Korn and Kid Rock, but…
Anyway, the concert probably went down as the biggest cluster in the history of festivals (even more than Fyre Festival). In the aftermath (where literally everything was burned to the ground), the organizers blamed a few bad apples. Now don't get me wrong, the kids attending did the damage and the behavior there was inexcusable, but I'm looking at it with the eyes of an event organizer.
The organizers first and number one goal was to make money off of this event. When they outsourced the food, merchandising, security and trash removal to contractors, they didn't think about what this would do to the attendee experience. By the end of the event, some vendors were charging more than $10 per bottle of water (in 1999) because of the water shortage at the event. Security was a joke. Even after the first day, the entire concert area was a landfill.
When we put on events like Creator Economy Expo, or my former event Content Marketing World, we always asked if a change was going to positively or negatively impact the attendee experience. If we needed to cut a certain area (due to budget) that wouldn't negatively impact the experience, then we were okay. If it did, we needed to think long and hard about making a decision like that.
But when you make budgetary decisions simply as a numbers game and don't consider the audience, things always go wrong.
Watch this documentary at your own risk.
The State of the Cleveland Browns
As you know, I'm a life-long Cleveland Browns fan. So is my wife, Pam.
We have been struggling with the signing of their new Quarterback Deshawn Watson. TLDR; Watson was just served an 11-game suspension over sexual misconduct allegations.
Regardless of what you feel about the justice of this, the Browns' front office knew about this situation in advance, and still decided to give Watson the largest guaranteed contract in the history of the NFL.
We have been season ticket holders for over 15 years. We attended Sunday's preseason game against the Eagles. And it was exactly as I expected. Most fans are still in shock about the entire situation. But also, there were some Browns' fans showing support for Watson in drastically inappropriate and harmful ways (one went viral).
I'm incredibly saddened by this whole issue, but my wife said it best. With her permission, below is her LinkedIn post stating her feelings about the situation.
I'm struggling with walking into First Energy Stadium today. I'm usually so excited, jumping out of bed like a kid at Christmas. But today, I'm just feeling kind of meh.
This spring, when my beloved Cleveland Browns made a decision to hire, and pay the largest salary in the world, to a morally controversial player, my enthusiasm started to waiver. I tried to get through it, ignore it even. Josh Cribbs said on a morning show that "business is business." Okay yes, let's look at it that way I thought. But then I couldn't just look at the business, because the business has no respect for me, my girlfriends, our moms and daughters.
Many said, if he helps win a Super Bowl all will be forgiven. Probably true, but still with a disclaimer that we had to deal with the devil to get there.
I did love Baker by the way. But that all went wrong last season anyway. That's for another day. I'm not upset he was replaced (maybe the how it happened was awful) but trades are something I can handle.
I tried to find ways that I thought I could get through this. I won't buy concessions at the stadium for example. That way they don't get any more of my money. (We had renewed our tickets paid in full before this acquisition). I roll my eyes even at myself because I am sure that $30 over 8 or 9 home games is going to break the management.
Overall though, the organization that has brought me joy over the last many years has now decided that I don't matter. They have essentially said that it's okay if people get hurt along the way. I know they aren't the first team to do this, but they are my team, and as of today, they have ruined for me what is usually a really exciting time.
So I'll be there. But my heart won't.